UCLA IS Media Preservation Lab Restores Community-Based Collections
Professor Shawn VanCour leads state-of-the-art lab where students gain hands-on training and participate in projects to preserve community media histories. 
The UCLA Department of Information Studies has expanded its ability to prepare students in its Master of Library and Information Science program for practical work in media archiving and preservation through completion of its new IS Media Preservation Lab, which formally opened in Winter 2022. Part of the department's larger IS Library facilities, the lab is housed in the SEIS Building in North Campus. It was created through a $300,000 gift from a local foundation to support the Center for Preservation of Audiovisual Heritage, which now operates out of the lab.
This past spring, the lab successfully supported an initial round of CPAH projects aimed at preserving media materials in community-held collections. "We're focused on preserving community-held media collections that document the cultural and historical diversity of the SoCal region," says IS faculty member Shawn VanCour, who supervised the lab's construction and directed the first round of preservation projects using the new space. Students in the department's MLIS program digitally preserved materials in collections of several community-based archives and other local arts and cultural organizations, gaining hands-on skills using the lab's equipment and helping local organizations make content housed on obsolete and vulnerable audiovisual formats accessible to their intended users. 
"We're pursuing a curriculum-based model for media preservation [for] students who are training in the Media Archival Studies area of our MLIS program," VanCour explained. "Once they hit an appropriate point in their training, they are cleared to work with community-held collections in the context of their courses [and] for faculty-supervised independent studies and practicum exercises." 
Formerly a smaller suite in the main room of the IS Library, the Media Preservation Lab moved to a larger, adjacent room renovated through a gift from the late Professor Robert M. Hayes, who from 1974 to 1989 served as dean of the then-UCLA Graduate School of Library and Information Science. This expanded space has provided room for the lab's new equipment purchases, as well as several recent donations such as a vintage open-reel videotape machine, received from Corday Productions, that was used in the production of NBC's long-running soap opera, "Days of our Lives." 
"Preservation spaces like this include a mix of hard-to-find obsolete playback technologies and state-of-the-art digital technologies used to transfer and restore media content to something approximating its original state," says VanCour.
The new equipment includes several high-end items, such as a Prism audio converter, a Timestep preamp for deriving material off of vinyl records and other grooved media, and a custom-built Kinetta archival film scanner that enables work with a variety of delicate and damaged film formats.
"There are very few places that have this kind of equipment," Professor VanCour notes. "So, for students to walk out of our program saying, "I was trained on a Prism," or "I know how to use a Kinetta," those are not skills that most people have straight out of grad school, and it gives our MLIS students a competitive edge."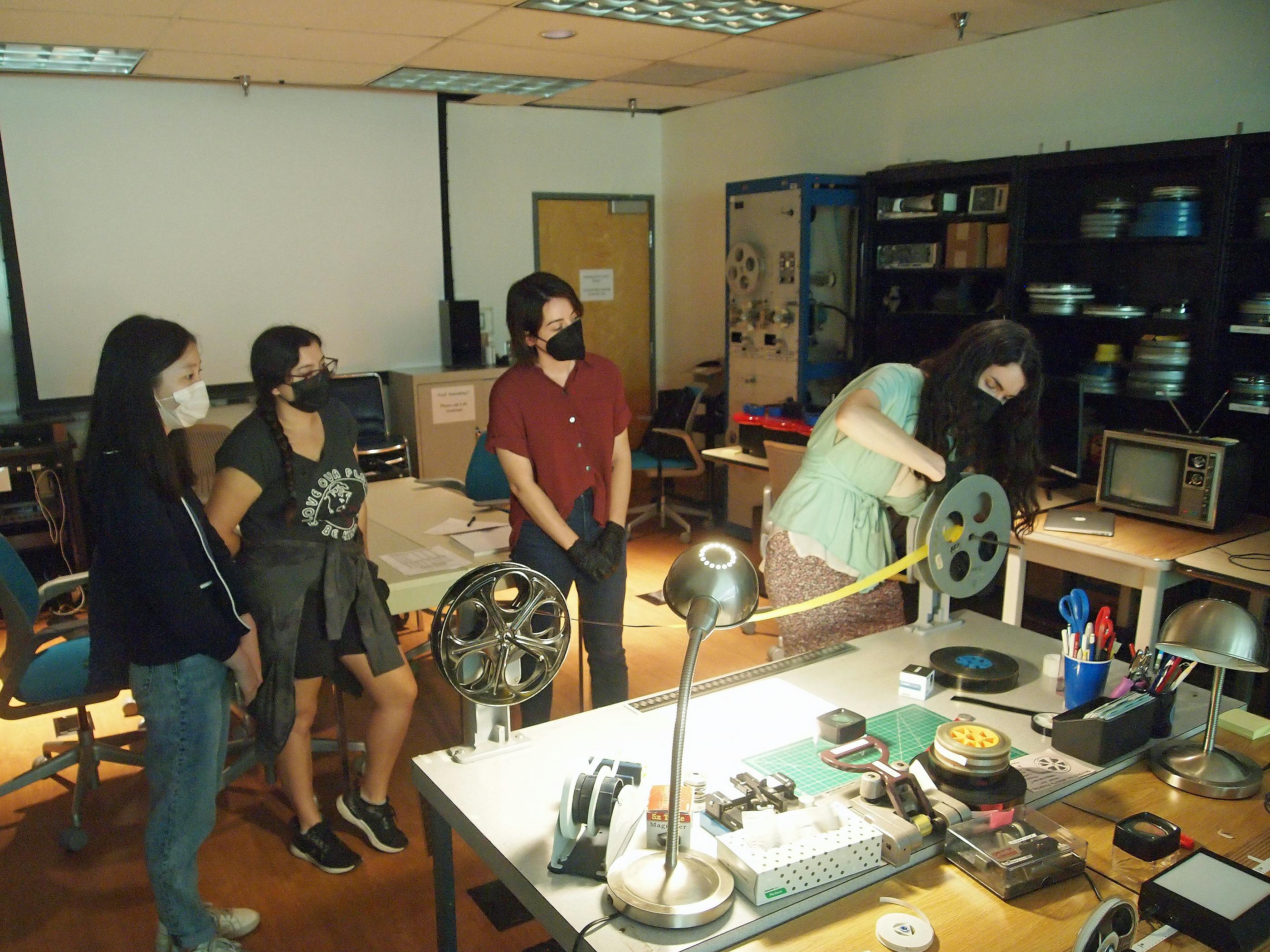 A number of IS classes have used the new lab space since its opening in February. Students in a digital preservation course taught by Professor Anne Gilliland used some of the specialized digital forensics software on the lab's computers; IS lecturer Dino Everett's students got a demonstration of its video transfer suite as part of their course in moving image technology; and students in classes taught by VanCour and Professor Michelle Caswell participated in CPAH pilot projects preserving materials from community-held collections. 
"Professor Caswell is a co-founder of the South Asian American Digital Archive (SAADA)," says VanCour, "and recruited this organization as a participant in her spring course on community-based archives, where students assist different archives with active projects. Students were processing a SAADA collection that included materials from ArtWallah, a South Asian American arts festival that ran through the early 2000s in Los Angeles and included everything from poetry and musical performances to painting and sculpture. A student in her class [preserved] 17 MiniDV tapes from that collection, which documented the entire festival for 2002." 
Roughly 20 hours of content were transferred from these tapes, which SAADA plans to make available to users through its online archive.
VanCour's own course was in audio archiving and was designed as the primary pilot, with the entire class based around training students in the new lab space with the goal of digitizing materials in community-held collections for final projects. 
"The first part of the class was exposing students to the different formats that they would be working with over the course of the quarter, so they got practice handling and assessing those media, then they did some practice transfer exercises, using our lab equipment so they would know how to operate all of the machines [and] properly digitize these materials," says Professor VanCour. "Once they finished that training and demonstrated their competence in these areas, they received clearance to work with the community-provided collections."
The class partnered with three local organizations, who each selected priority content from their collections for students to digitize. The June L. Mazer Lesbian Archives provided several oral histories and musical performances from the 1960s through the 1980s on cassette tapes and reel-to-reel tapes, as well as a rare vinyl record from their collections. The Skid Row History Museum & Archive provided recordings from the early 2000s of activist theater performances by the LA Poverty Department on Digital Audio Tape. In addition, KPCC-FM selected several episodes of its local news and public affairs program, "Air Talk with Larry Mantle," with original airdates from 2002–2005, housed on DATs, MiniDiscs, and CDs. 
Over 40 hours of content were successfully preserved by students, which will be used by the participating organizations in current projects and made available to other users of their collections now that they are in an accessible, digital form. 
"Some of these media don't hold up well over time," says VanCour, noting that the Digital Audio Tapes were in some cases quickly deteriorating, jeopardizing the contents. "It's a good thing we got to these now, while they were still playable." 
The homemade CDs provided by KPCC, he added, are also a vulnerable format, "which is something people don't think about since they aren't as old as some other media. But they were made with dyes that deteriorate very quickly; and, even if they're intact, discs from 20 years ago don't always mount properly on modern drives." 
Professor VanCour reported that the contents of all provided discs were successfully retrieved, and after performing a number of needed repairs to some of the older analog tapes, these, too, were all successfully transferred and returned to the partner organizations along with their digital copies.
Chloe Reyes, a MLIS student who works as the department's lab assistant and serves as technical coordinator for CPAH projects, says that with the IS Media Preservation Lab, "… the possibilities are so endless." Reyes, who earned a prior degree in film production at CalArts, has been teaching film classes at the Echo Park Film Center for ten years and also worked as a projectionist, coming to the MLIS program with a depth of prior professional skills already in hand. She assisted VanCour with the initial construction of the lab and, as he puts it, "put a lot of this stuff together with her own two hands."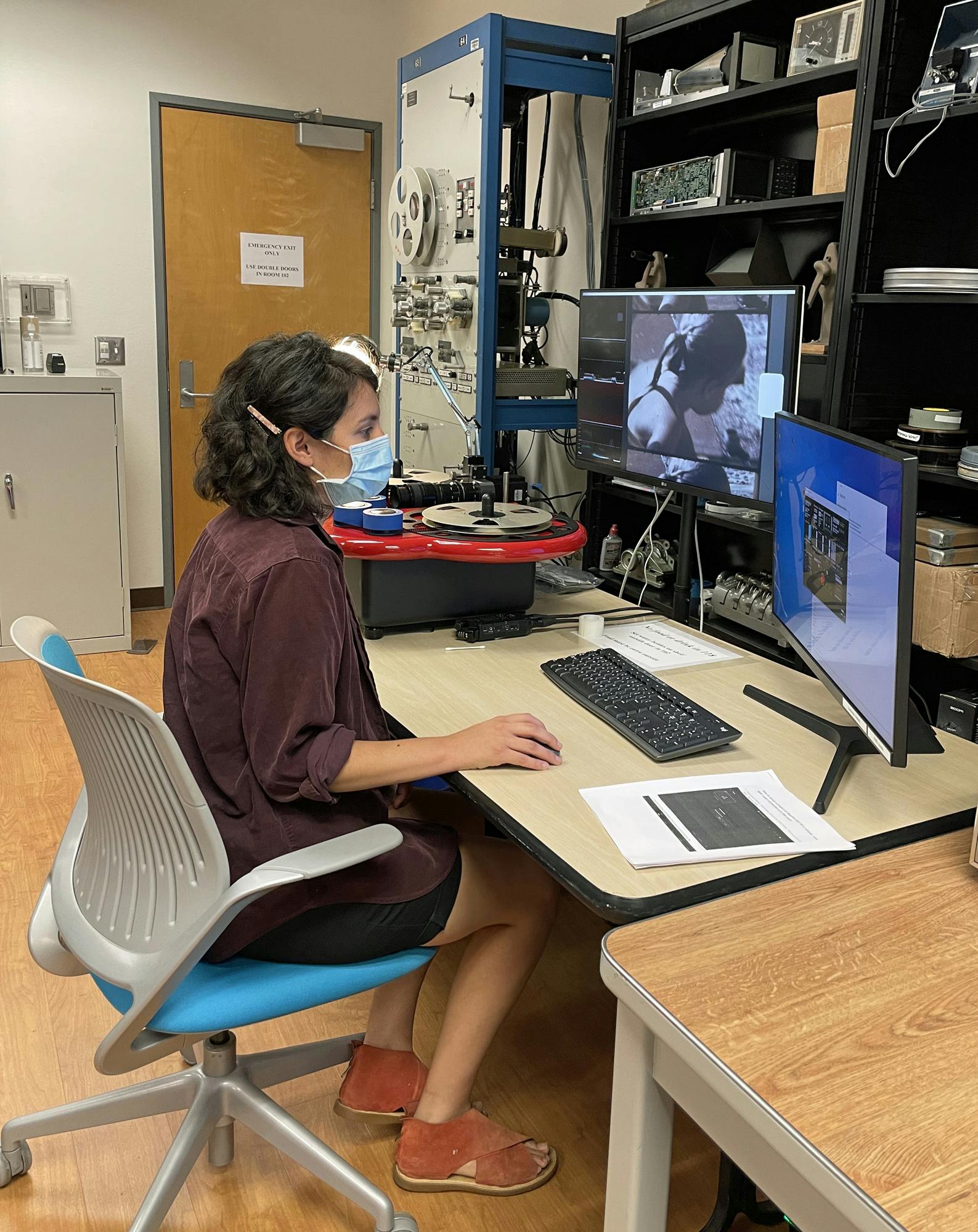 "I really, really have enjoyed my time in the MLIS program," says Reyes. "The Community Archive Lab that Michelle Caswell started got me interested in the program, and this media lab was opening up just in time." 
Reyes took the initial post as a project assistant to work on lab construction, and then, "Once the installation [work] was done, I stayed on, and I've been building documentation and organizing technical workshops for students to learn the different stations, as well as coordinating technology needs for project work with community archives." 
In addition to the pilot projects in VanCour's and Caswell's classes, Reyes noted that the lab also did a side project this spring, assisting producers of the independently produced "This Way Out," a self-described "international LGBTQ radio magazine" distributed to community radio stations across the U.S. and abroad. Over a hundred episodes were archived on Jaz disks, a short-lived format that was a descendant of Iomega's Zip drive and cannot be read by contemporary computers. The lab was able to access the contents of a dozen provided disks using its specialized forensics software, and the producers are now working with state and federal organizations on possibilities for making this content publicly accessible.
Since the spring, MLIS students have continued making regular use of the lab facilities. 
"A lot of people have been coming in over the summer and wanting to learn the Kinetta," says Reyes. "It's been really great having students come in and practice, and learning from each other." 
Reyes has also been assisting IS lecturer Janet Ceja, Ph.D., with preparing a fall course in film preservation that is making active use of lab facilities. As the next installment in CPAH's projects, this course was designed by Ceja following the same curriculum-based model pursued for the department's spring classes, with students digitizing materials for final projects from community-held collections. For this course, Ceja has partnered with Deserted Films in Palm Springs, which has a number of Southern California-themed home movies that students will transfer on the Kinetta. These films will be publicly screened by the organization once the transfers are completed.
VanCour says that the experience that students gain in these courses will be invaluable as they enter the information professions. 
"Students come out of these classes knowing what to look and listen for when assessing these materials, getting deeply familiar with the peculiarities of each of format, and they gain proficiency using all this specialized equipment and software," he says. 
Students from UCLA's program may go on to work in more specialized media archives, but Professor VanCour says their skills are also in demand across a growing range of other library and archiving contexts.  
"There are very few collections these days that do not have media in them, but there are very few iSchools that are actually teaching students how to work with these formats, which is a problem because so much of the materials that Library and Information Science professionals encounter in their jobs now involves these different kinds of media assets," he says.
VanCour says that UCLA has the only ALA-accredited MLIS program with a specialization dedicated to media archival studies, and is one of the only universities in the country with a fully equipped media preservation lab for instructional use. 
"There are not many places where students can get these kinds of opportunities, so it's a real point of distinction for our program that we are able to offer this, and in a way that directly benefits our community, as well," he says. "This spring was a real test for the Center for Preservation of Audiovisual Heritage to show that this curriculum-based model of community media preservation was actually viable, and that we could deliver digitized content to the participating archives. I'm happy to say it was a success, and it's positioned us well to continue this model into current academic year and beyond."
VanCour is at now work on a new book on the professionalization of television work in the United States, during the medium's post-war expansion period of the 1940s and 1950s. 
"When television started taking off after the Second World War, you needed a whole new workforce to fuel that medium's expansion and create all of the new programming content," says VanCour. "The book traces the development of that workforce and its associated forms of expert knowledge, delineating a professionalization process that began with reskilling of workers imported from adjacent entertainment industries such as radio, film, and theater, then culminated in the rise of professional degree programs at state universities like UCLA." 
The integration of professional degree programs like television production into the structures of higher education systems was not without its challenges, says VanCour. 
"It's always been a fraught process," he says. "But these programs play an important role in our society, and offering professional degrees at the university level gives degree-holders a level of education and a level of credibility, competency, and accountability that has been, historically speaking, essential for the success of a number of fields – including the LIS professions."