UCLA CTS to Publish New Funding Guide for More Diverse Schools
The UCLA Center for the Transformation of Schools (CTS) will release  "A Funding Guide to More Diverse Schools in California 2022–23," Friday, December 15, 2022.  
Compiled by a team of researchers, educators and advocates led by Kai Mathews, director of the California Educator Diversity Project at CTS, the guide serves as a public resource for educators, schools and districts striving to provide equitable access to inclusive learning environments for all students. This guide spotlights how funding can be used to prioritize efforts to increase the diversity of the educator workforce and humanize the teaching profession. The authors hope is that if used with intentionality, the allocations outlined in the guide can expand access and opportunity for all TK-12 educational partners.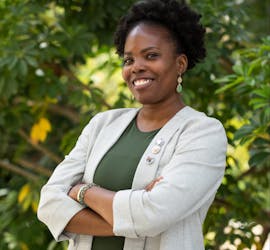 "The state is providing millions of dollars to ensure we have a K-12 system that is diverse, welcoming, and affirming for students and teachers," said Kai Mathews of UCLA CTS. "Our hope is that this guide will make it easier for school districts and educators to access these funds by saving time and reducing the guesswork. We know that knowledge is power and that for some districts with limited capacity figuring out the application process can prove to be a barrier and gatekeeper."
The new guide offers information about availability and access to a variety of programs and resource to support educators and further teacher diversity.  For example, information is provided about California's Educator Workforce Investment Grant, including the amount of funding available, who and what it's for, and how and when to apply. 
Other programs highlighted include: 
- Integrated Teacher Preparation Programs
- CTC Career Counselors
- Golden State Pathways Program
- Golden State Teacher Grant Program and more 
- The National Board for Professional Teaching Standards Certification Incentive Program
- CA Teacher Residency Grant Program
- Educator Effectiveness Block Grant
 - California Classified School Employee Teacher Credentialing Program
- The California Prekindergarten Planning and Implementation Grant Program 
 - 2022 Antibias Education Grant Program
The new guide will be published and available online on December 15 at  https://bit.ly/3V6HVQd
In addition to the Center for the Transformation of Schools, partners in the project include WestEd, The Education Trust West, Public Advocates, California Council on Teacher Education, UC Merced Extension-Teacher Education Programs and TeachPlus.