Transformative Coaching and Leadership: Two Bruins from SEIS Program Nominated for NCAA Woman of the Year Award
UCLA alumnae and former Bruin athletes Natalie Chou (Women's Basketball) and Mac May (Women's Volleyball) selected for achievements on and off the court.
Two Bruins who have completed the Transformative Coaching and Leadership Program were nominated in July for the Woman of the Year Award by the National Collegiate Athletics Association (NCAA). Natalie Chou ('22, M.A.), former guard on the UCLA Women's Basketball team, and Mackenzie May ('21, M.A.) who was an outside/opposite hitter for the UCLA Women's Volleyball team have been recognized by the NCAA for their distinguished athletic and academic performance, as well as their service to their communities, throughout their college careers. 
May ('20, BA) and Chou ('20, BA), double Bruins who both majored as undergrads in sociology, are among 577 recently graduated student-athletes who were nominated across the nation. 
"I'm so honored," says Chou, who grew up in Plano, Texas and transferred to UCLA from Baylor University in her junior year. "I don't know how I even got on that list because there are such amazing student-athletes on there. I was really surprised and grateful for the honor." 
"Just to hear about all the people that were nominated, I am so lucky to be a part of that group," says May, who hails from Dubuque, Iowa. "It's so fun and awesome to represent UCLA, it's a great feeling." 
Chou, who plans to become a college coach after her professional basketball career, says that she was drawn to the Transformative Coaching and Leadership program because of her teammates' interest and the caliber of instructors.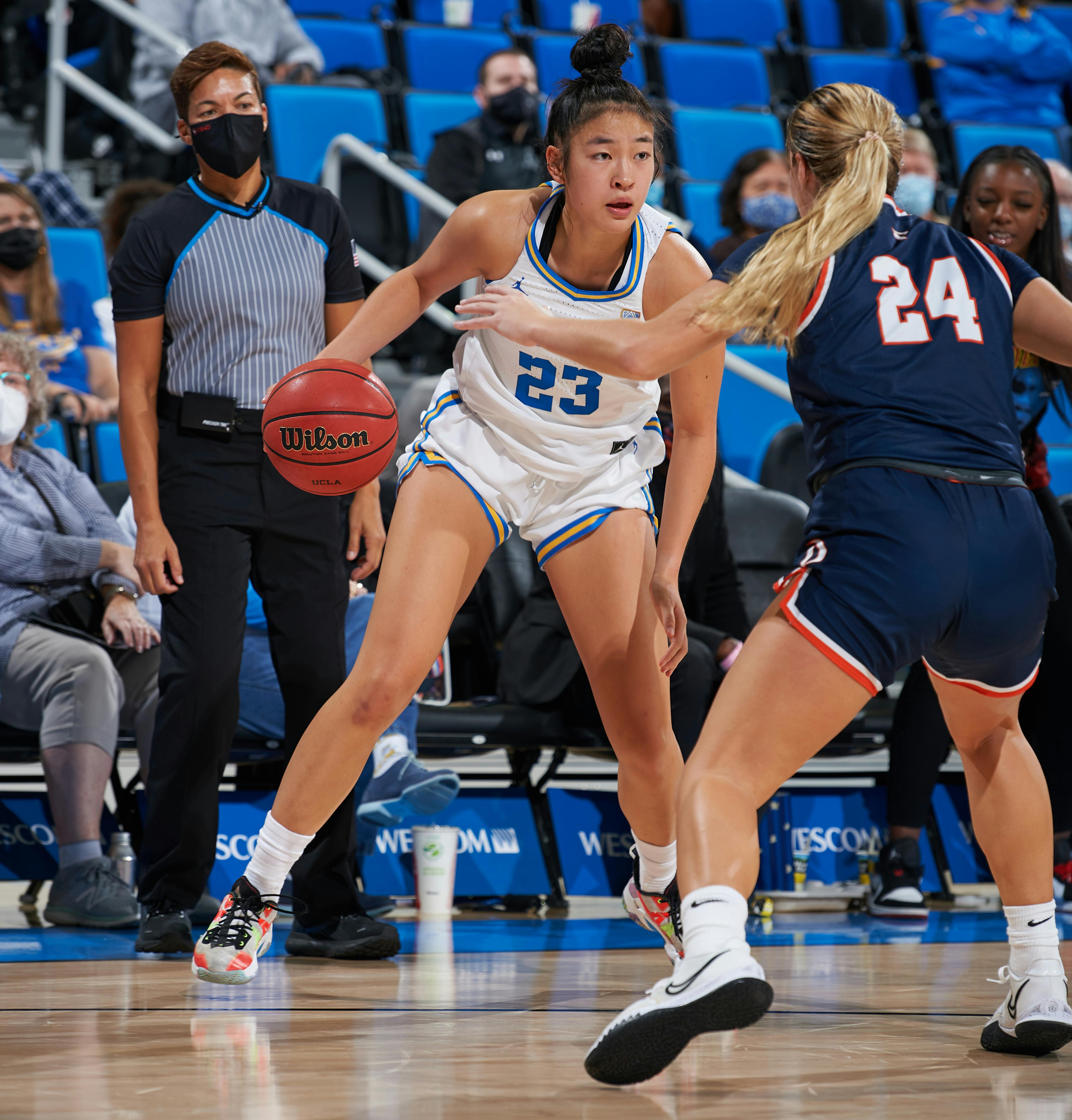 "When I enrolled, a couple of my teammates at the time were also looking to enroll as well," she says. "And I felt that learning from the best coaches - Miss Val (Kondos Field), Sue Enquist - incredible, legendary coaches - was an especially great opportunity."
May says that the program has been instrumental in shaping her future coaching philosophy.
"I was learning what a great leader looks like, reading books from all these legendary coaches, and learning from some of the most incredible coaches that were my teachers, and then directly applying that onto the court," says May. "I learned a lot about my own leadership while I'm playing, but also, how to project … how I would develop my philosophy as a coach. And then, I felt very prepared for life afterwards and after college, which even though … it was tough to not have that safety net of UCLA, I still felt very grounded in the principles that I've learned through that graduate program."
Chou's mother, Quanli Li, played for the Chinese national women's basketball team and continues to run skills camps in Dallas for players of all ages. Chou was able to do her field work experience in the program by assisting her mother.
"My mom is focused on the basketball skills, but I was able to talk about mentorship and mental health," she says. "It was great to really talk to the kids, I really appreciated the opportunity."
May, who did her field work in various UCLA camps for both Bruin athletes and younger student-athletes in the local area, says that the opportunity was beneficial in her growth as a coach.
"Every experience that I had with all these different types of children was just very eye- opening," she says.  "You kind of think you have it down, and then you experience a new group and you … learn so much."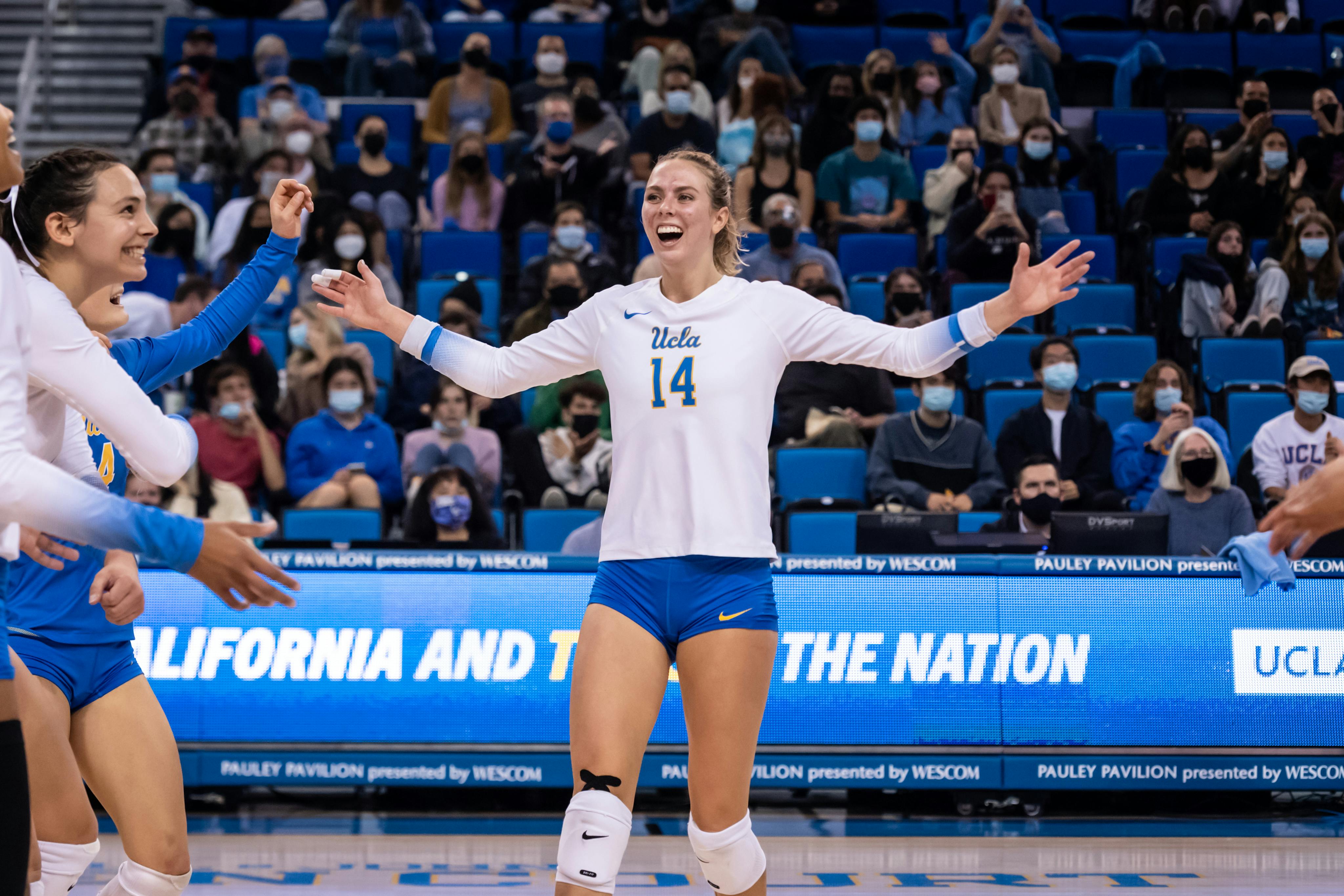 The Transformative Coaching and Leadership program instructs coaches through the teachings of legendary UCLA men's basketball coach John Wooden, preparing them to work with individuals, addressing not only the athlete but the whole person. May says that the experience of sport contributes to personal growth across all areas of life. 
"Sports was so ingrained in my life growing up," says May, whose mother and sister both played volleyball. "You don't even realize that you're working these different facets of your life until you get to college, or you go into new environments and you're like, 'Oh, I can do this, I can work and communicate with new people quickly.' You learn those skills very fast and kind of subconsciously. 
"I also think [because of] the experiences that come with sports … I've been so blessed to be able to travel to so many different places and meet people who are very different from me and meet people that have different cultures and lifestyles. It's incredible to experience that. I'm very, very thankful to be able to visit these places and kind of get outside of my own bubble."
Chou, who also grew up immersed in her sport, says that she owes a large part of her success to her mother. She also acknowledges the impact of basketball upon her entire support system.
"I love it - it's something I've been doing my whole life," she says of the game. "When I was younger, my mom pushed me to continue because I guess she saw [my] potential. But for me, it was meeting my best friends and my mentors through basketball – everyone I know is through the basketball world." 
Chou says that she would recommend the Transformative Coaching and Leadership program to fellow student-athletes at UCLA, with the deeper appreciation she has gained for her own coaches and supporters.
"I learned so much about myself and also the people that I spend so much time with -  my coaches and also the players from the program," says Chou. "I think it's such a great program to learn more about sports and also about leadership. I see a lot of what I learned in the program in my life through the coaches and also myself. 
"It's really transformed how I view my coach, Coach Cori (Close) and everyone else on the coaching staff, and how grateful I am for all the work that they've put in," says Chou. "I had such a great experience. As players and fans, we only see [from] one side, but I really learned about a whole other side."
For more information on the NCAA Woman of the Year Award, visit the organization's website.