Thuy Vo Dang Honored by the Society for Public Health Education
Scholar of oral history, Southeast Asian diaspora, and community archives recognized for co-authored paper on archiving COVID-19 experience of AAPI communities. 
UCLA Assistant Professor of Information Studies Thuy Vo Dang and her co-authors have been awarded the 2022 Sarah Mazelis Health Promotion Practice Paper of the Year Award by the Society for Public Health Education (SOPHE). Vo Dang, a scholar of oral history and community archives, co-wrote, "Through Our Eyes, Hear Our Stories: A virtual photovoice project to document and archive Asian American and Pacific Islander community experiences during COVID-19," with colleagues from the University of California, Irvine and the Orange County Asian Pacific Islander Community Alliance, published in the journal Health Promotion Practice. The award will be presented by SOPHE at a ceremony on March 23, during the organization's Annual Meeting in Atlanta.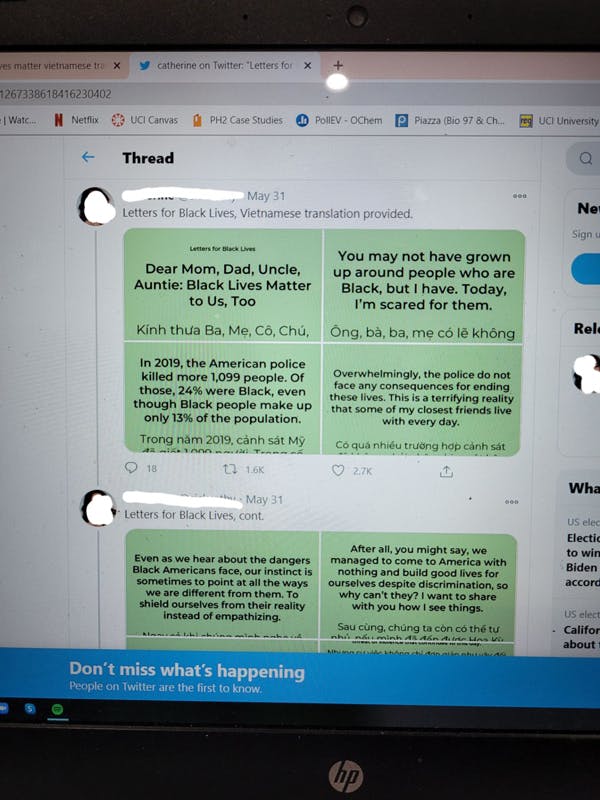 A photo by UCI undergraduate Leyna Tran shows multigenerational efforts by the Vietnamese American community to support the Black Lives Matter movement through social media. Courtesy of sites.uci.edu/voice
"The pandemic revealed historical and contemporary injustices experienced by minoritized groups such as Asian American and Pacific Islanders," says Professor Vo Dang. "AAPI elders were among the most vulnerable to COVID-19 and the rise in anti-Asian violence. Our team of public health experts, historians and archivists received an Inclusive Excellence grant from UC Irvine to partner with 'first responder' community leaders and train our undergraduate students to deploy the Photovoice method to document AAPI stories."
The Sarah Mazelis Award honors the legacy of Sarah Mazelis, a champion of health education, and recognizes work of the highest scholarship, demonstrates the discipline and creativity of effective health promotion while using accessible and transparent language, and demonstrates courage and persistence in the face of structural inequities and complicated lived experience. 
Professor Vo Dang and her co-authors were awarded for their creative efforts in chronicling the COVID-19 pandemic through the perspectives of the AAPI community in California's Orange County, which has the second largest population of Vietnamese outside of Vietnam, as well as other AAPI groups. The co-authors stated that quantitative studies on the disproportionate impact of COVID-19 do not reveal the qualitative experiences of a racialized pandemic, exacerbated by political leaders labeling it as the "China virus." Reframing the Photovoice method as an archival tool, they were able to capture the lived experience of AAPI communities, using a virtual research environment that enabled them to gather information with a variety of digital learning and information sharing platforms.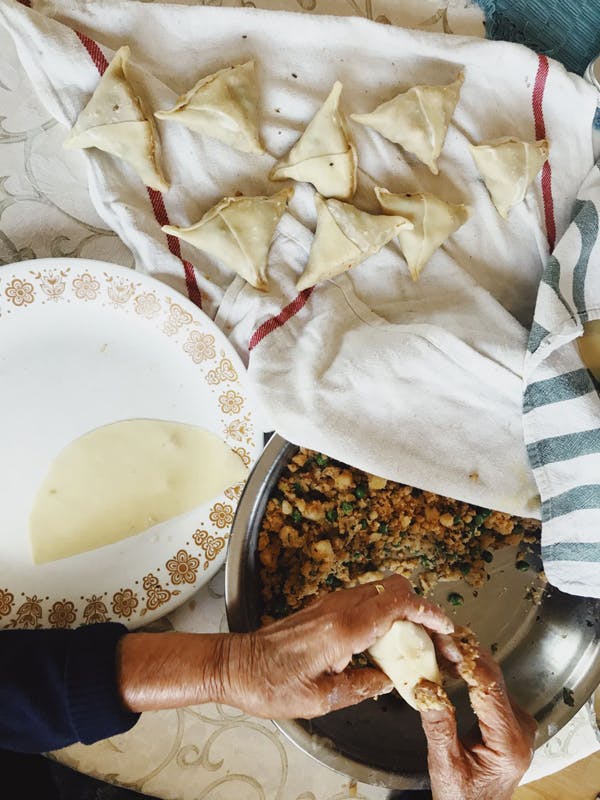 A positive side to the AAPI COVID-19 experience was bonding with elder family members in ways that would not have been possible normally. UCI undergraduate Rhea Jandu shared a photo of her grandmother making samosas, an East Indian delicacy. Courtesy of sites.uci.edu/voice
In their research, the co-authors enlisted the aid of community-based organizations that provide essential services for underrepresented communities to serve as research mentors for university student researchers. Given the historic nature of the pandemic and the underrepresentation of AAPI experiences in mainstream archives, the research team emphasized the importance of students as co-producers of archival knowledge.
"Our team had to be resourceful in reconceptualizing the traditional in-person approach of Photovoice in a virtual environment by using our students' close connections to the most vulnerable AAPI groups," says Vo Dang. "In this way, the team gathered diverse perspectives from across our heterogenous AAPI communities in Orange County and beyond. 
"What we learned was that it is possible to build community while sheltering in place. It is also possible to respect the expertise of community-based leaders while conducting research and training students. We modeled the kind of research that is justice-centered and responsive."
Before arriving at UCLA in 2022, Professor Vo Dang served as curator for the UCI Libraries Southeast Asian Archive and Research Librarian for Asian American Studies. With research and teaching expertise in oral history, Southeast Asian diaspora, community archives, and cultural memory, she brings an interdisciplinary approach to co-creating digital humanities and archival documentation projects with educators and community-based organizations. 
Vo Dang is a co-author of the books "A People's Guide to Orange County" (2022) and "Vietnamese in Orange County" (2015). She serves on the board of directors for Arts OC and the Vietnamese American Arts & Letters Association. She holds a Ph.D. in ethnic studies from the University of California, San Diego and a B.A. in English and Asian American Studies from Scripps College. 
Visit this link to view "Visualizing Our Identities and Cultures for Empowerment (VOICE)," the Photovoice project created by UCI students presented in, "Through Our Eyes, Hear Our Stories: A virtual photovoice project to document and archive Asian American and Pacific Islander community experiences during COVID-19."
A different paper about this project was written by Professor Vo Dang and the research team for UCLA-based journal AAPI Nexus: "Care during COVID-19: A Virtual Asian American and Pacific Islander Photovoice Project" (With Julia Huỳnh, Phuc Duy Nhu To, Cevadne Lee, Judy Tzu-Chun Wu, and Sora Park Tanjasiri)