Six Bruins from Transformative Coaching and Leadership Selected to Join the NFL
UCLA Football players and SEIS graduate students chosen in 2022 NFL draft and signed as undrafted free agents.
Six Bruins from the UCLA Football team – who were graduate students in the Transformative Coaching and Leadership program of the UCLA School of Education and Information Studies, have been selected by NFL teams as either free agents or part of the 2022 NFL Draft. These six student-athletes are the majority of the eight Bruins overall who found themselves on NFL rosters.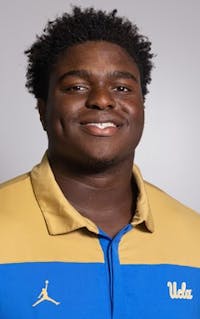 Three students were drafted: defensive lineman Otito Ogbonnia was picked in the 5th round of the draft by the Los Angeles Chargers, defensive back Quentin Lake was selected in the 6th round by the Los Angeles Rams and running back Brittain Brown was chosen in the 7th round by the Las Vegas Raiders. 
Signing on as undrafted free agents are running back and special teams player Ethan Fernea, who joins the Indianapolis Colts; linebacker Jordan Genmark-Heath, signed with the Kansas City Chiefs and defensive back Qwuantrezz Knight  joins the San Francisco 49ers.
Brown, who graduated in fall of 2021, says that hearing he had been drafted to an NFL team has been a dream of his since he began playing at the age of five.
"Ever since, I've dreamed of the moment of hearing my name called and getting drafted, so when it did actually happen, I was glad to be surrounded by all my loved ones – it was just kind of a surreal moment," recalls Brown. "My father played at West Point, and he was a big part of helping me and my brother, who plays football as well, in building our careers up for a moment like this."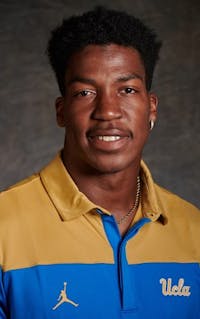 Fernea says that as a former walk-on player, he never expected an opportunity to play in the NFL. 
"Getting a call from the Indianapolis Colts was such an incredible feeling for me, because it meant that someone recognized the hard work I had been putting in and they saw enough talent in me to give me an opportunity," he says. "An opportunity was all I ever hoped for. I still have an extremely long way to go in order to make the team, but my crazy childhood dreams are starting to seem not as unrealistic as I thought."
Knight, another member of UCLA's Class of '21, says that being signed to a team of the 49ers' caliber is also a dream come true.
"I have been wanting to be in the NFL since I was five years old," he says. "It actually seems surreal. I was relieved in a way given that I was not drafted. After I was signed, I felt that I made it and that I have an equal chance to be on the team as anyone else. It felt amazing."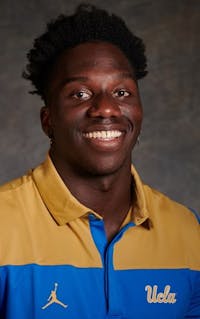 Last fall, Brown and Knight mentored student-athletes at Crenshaw High School through the rigors of training and schoolwork amid the COVID-19 pandemic. Brown says that it felt "natural" to empathize with the younger student-athletes and to share with them the benefit of his and his teammates experiences, both on the field and in the classroom. 
"I felt like …  that's how I was when I was younger," Brown says. "Coming up, I didn't have a mentor. Nobody really pushed me except my Pops. Everybody doesn't have a father like that that's involved in their sports lives. So, we were doing the same thing for them as my father did for me, keeping them focused and letting them know what the most important things are at that stage in their life and also trying to help them understand what they need to do to get recruited and go on to the next level, if that's what they want to do. A couple of guys actually did get offers, and they're rated on these [player] sites, so I think the UCLA-Crenshaw [mentorship] actually helped them a lot."
The Transformative Coaching and Leadership program is informed by an ethic of social justice, where teaching and coaching in various contexts, including collegiate sports, professional sports, K-12 schools, Boys and Girls Clubs and other community sports programs, are analyzed through the lens of equity, access, diversity, and human dignity.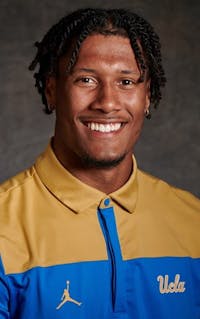 The program is inspired, in part, by the teachings of legendary Bruin Basketball coach John Wooden and addresses a holistic vision of student-athletes and their goals of excellence, both in the classroom and on the field. Faculty in the program are experts and practitioners in sports including coaches and renowned UCLA Education faculty. Among the instructors in the program are former women's softball head coach and sports entrepreneur Sue Enquist, and former women's gymnastics coach Valorie Kondos-Field. Members of Bruin sports leadership have also served as guest speakers including UCLA's Alice and Nahum Lainer Family Director of Athletics Martin Jarmond. 
"I definitely think that the Transformative Coaching and Leadership program influenced my performance on the field," says Knight. "I was able to study coaches like Nick Saban, Sue Enquist, John Wooden, Bobby Knight and Miss Val. John Wooden's 'Pyramid of Success' and Bobby Knight's view of being prepared for the negatives were especially influential. All of them provided for me a blueprint of how I could be the best that I could be and become a leader on my team."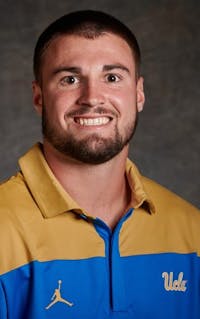 Brown says that the teachings of the Transformative Coaching and Leadership program are focused on the idea that, "… you practice what you preach."
"We're really diligent about the leadership aspects of the classroom and taking things on with a step-by-step basis," says Brown. "Some of the really influential teachers that I had were Arif (Amlani, SEIS director of program development), Sue Enquist, and Miss (Julia) Pelikhova. It was getting your goals and everything that that you're striving for and having those in front of you. They taught us to stay focused on that, and it helps a lot on the field as well."
"The Transformative Coaching and Leadership program has given me the opportunity to think critically about the mental side of sport," says Fernea, who has also been selected for the Hampshire Honor Society. "I've been able to learn about mental health within sports. I've also been fortunate enough to learn about the mentalities and philosophies of many great coaches. This has forced me to take an introspective look at my own mentality and my mental state while competing. TCL has also shown me how impactful sports can be, and I hope to continue to use sports as a means to positively influence those around me."
"Knowing what I know now about coaching and leadership, I can definitely take this to my NFL career, but I can also apply it to life in general," adds Knight. "Although Miss Val isn't a football coach, she urged us to embrace our inner self. By being your true self, you are able to move forward in life without being afraid and by doing that you can reach new heights. As she says, it is much better to the best version of yourself rather than a second-rate version of someone else."
For more information on the Transformative Coaching and Leadership program, visit this link.
Special thanks to Arif Amlani, Paolo Cantos and UCLA Athletics