UCLA Football Players Mentor Student Athletes at Crenshaw High School
Graduate student athletes in the Transformative Coaching and Leadership program share their expertise, academic support, and mentoring with high school football players. 
Graduate students in the Transformative Coaching and Leadership Program – who are also members of the UCLA Football team – mentored student athletes at Crenshaw High School this summer and fall, persevering throughout the second school year in a pandemic and a brief suspension of Crenshaw's football program early in the season. Eight members on the Bruin football team, including Brittain Brown, Jordan Genmark Heath, Paul Grattan, Qwuantrezz Knight, Quentin Lake, Sam Marrazzo, Morrell Osling, III; and Shea Pitts, each connected with and mentored two high school students. 
"As I sit here and reflect on my experiences as a mentor and my fieldwork experience, what stood out to me was that I felt like I actually helped this young man's life in a positive way," says Genmark Heath, linebacker for the Bruins. "I know that I am going to make sure that even when I leave UCLA that I am going to continue to mentor him and be that consistent person in his life if he will let me, which is an extremely important and exciting opportunity for both of us."
Julia Pelikhova, ('04, B.A.; '14, Ed.D., Educational Leadership Program) is a lecturer in the UCLA School of Education and Information Studies, teaching in the school's TC&L program. Inspired by her experiences as a high school guidance counselor and varsity cheerleading and marathon coach, Pelikhova arranged for student-athletes in her Practicum course to gain real life mentoring experience on and off the field at Crenshaw High School.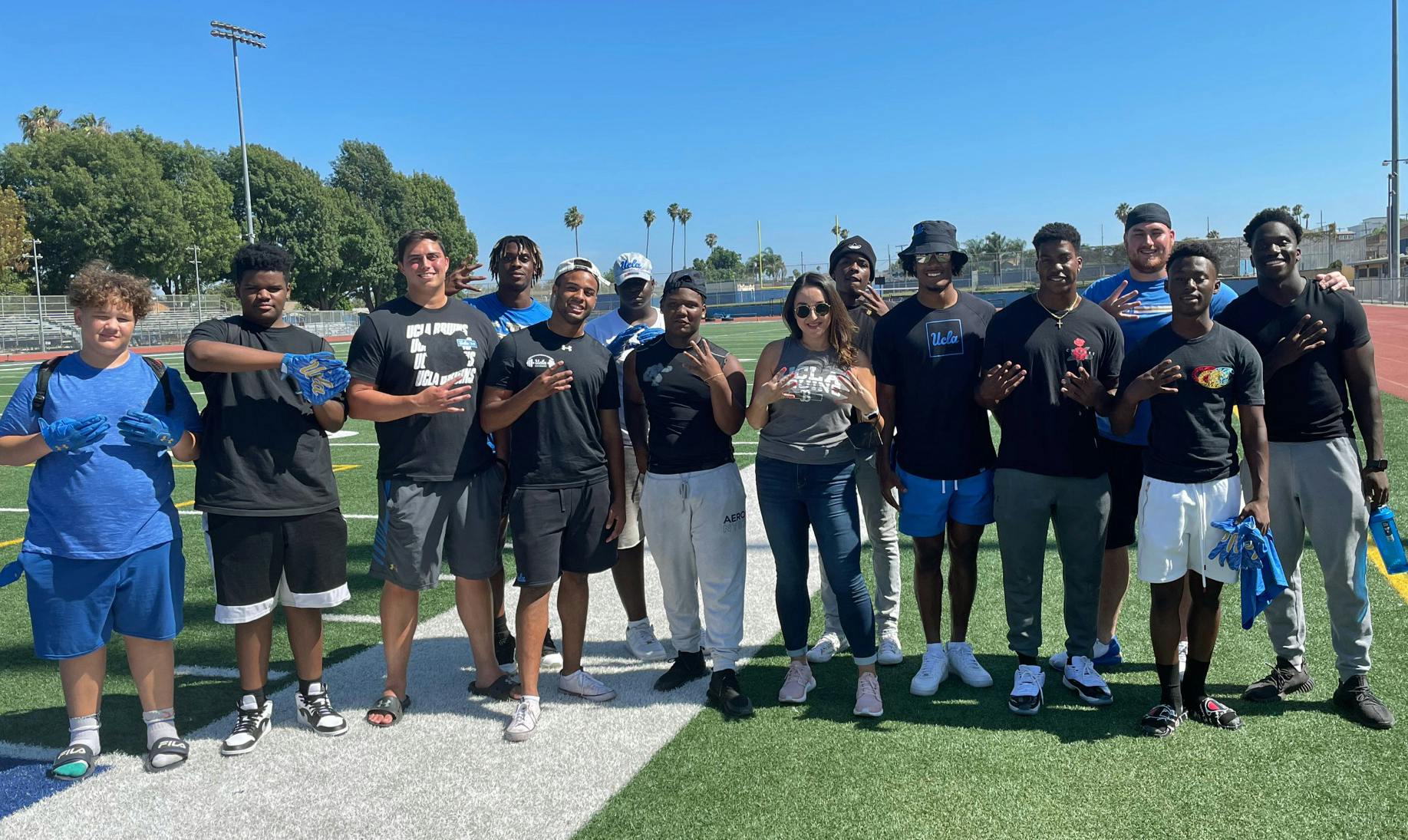 "My coaching experience with high school students really served as a mentorship - the girls I coached are now approaching 30 and I'm still in contact with many of them as their mentor and a role model," says Pelikhova. "I hope our football players continue their relationship with the mentees, even past their own graduation [from UCLA]."
Running back Brown was named to UCLA's Athletic Director's Honor Roll for Winter 2021, after arriving on campus in 2020 and enrolling in the Transformative Coaching and Leadership program. He played throughout his undergrad years at Duke, where he graduated with a degree in computer science and sociology. 
"The experience with these young student athletes at Crenshaw has been phenomenal and pretty eye opening at the same time," says Brown. "I never had a mentor growing up until I reached college, so I'm glad I could talk to these athletes while [they're] in high school. Their program isn't as fortunate as others, so right off the bat I could tell that COVID hit their team hard, and they were struggling to get people to come out for tryouts. A lot of the boys were still very excited, but a couple of them definitely needed some extra motivation. 
"This moment in their lives means a lot, especially for getting seen by colleges to move up to the next level. Having the wherewithal to keep working hard and to understand how life-changing it could be to get a scholarship will propel these kids into wanting to go to college and be great on the field as well."
Offensive lineman Grattan transferred to UCLA in 2020 after graduating from Villanova University as a political science major and earning first-team All-CAA (Colonial Athletic Association) honors, and a spot on the Commissioner's Honor Roll. Beyond his NFL aspirations, he looks forward to becoming a coach and says that mentoring high school athletes is something that gave him and his teammates the opportunity to provide their perspective, which is not so far removed from the teenage years.
"When I was in middle school [or] high school, I didn't really have any young coaches that I could super-connect with," Grattan says. "There's always a disconnect [because of] huge age gaps between older coaches and these young players. So, I'm really excited about this program, and I've been having a great time being able to connect with these high school students, because I know a lot of the time, you just hear from your coach, but whenever it's a guy who has been through it and is currently going through all the trials and tribulations of playing football, it offers a different perspective."
Linebacker Pitts was named to the 2020-21 Pac-12 Fall Academic Honor Roll, and graduated from UCLA in 2021 with his bachelor's degree in political science and a minor in data management. His parents both attended UCLA, and his father, sportscaster Ron Pitts, and grandfather Elijah Pitts, both played for the NFL. He says that mentoring the Crenshaw High athletes helped him to develop some key communication and coaching skills.
"I took a class on mental health in the classroom with Dr. Pelikhova that gave you ways to approach people that's not all up in their business but seeing how they're doing and being able to mentor [them] that way," says Pitts. "At first, a lot of them have their guard up, but then we learned ways to get to know people and get them to open up a little bit, because it's important not to keep a bunch of stuff inside. The more you open up about things, the better for your mental health. At first, a student wouldn't say much, but by the end of the day, he's telling you about his life and ... his family situation and how he's feeling about that, so that's good stuff."
Among the most pressing issues that the Crenshaw High students and their mentors faced was another school year amid the COVID-19 pandemic. Pelikhova was persistent in getting her students and the Crenshaw players connected, despite numerous restrictions and the brief suspension of the high school's football program. She says that she could see enormous growth among her students, who kept in touch with their young mentees throughout the suspension, and who went the extra mile to provide them with emotional support, academic advice, and even brand-new UCLA gear and equipment. 
"My students submitted some of their reflections on their mentorships this quarter and most of them talked about how it wasn't even about football – they were the sounding boards to listen to all of the things that the [Crenshaw] students were dealing with at home, at school, and in their lives," says Pelikhova.. "A lot of that non-sports related stuff… it was like they had a big brother, almost.
"We thought [the mentors] would get an opportunity to coach and share their football knowledge, but it went so much deeper and further because of the [pandemic's] limitations and the relationships that they built with their mentees. Our program is called Transformative Coaching and Leadership, and I really see how transformative their leadership has become. They went beyond what I ever imagined. I would see them walking into class on the phone with their mentee. A few of them have sent care packages to their mentees. I give them a lot of credit for being committed and taking this seriously and really being invested, not only in the [mentorship] project, but in their mentees."
The Crenshaw High football program has been affected greatly not only by the academic challenges of its players, but by the shortage of students to fill positions on the team.
"Crenshaw has a long and storied history of being a football powerhouse in Los Angeles," says Marrazzo, offensive lineman for the Bruin team. "Many college and professional players have come out of Crenshaw, including my own professional mentor, Terrell Turner. In recent years, however, that narrative has changed. Due to an increase in charter schools in the Crenshaw area, the team now barely has enough players to field a whole varsity team. This ... leaves these young student-athletes in a very vulnerable state.
"That is why this mentorship program is so important; it is on us to guide these young men to the future they deserve, and not let them fall victim to their circumstances. The goal of the mentorship program was to build a connection with Crenshaw's football players where we could help these young men stay on the right path."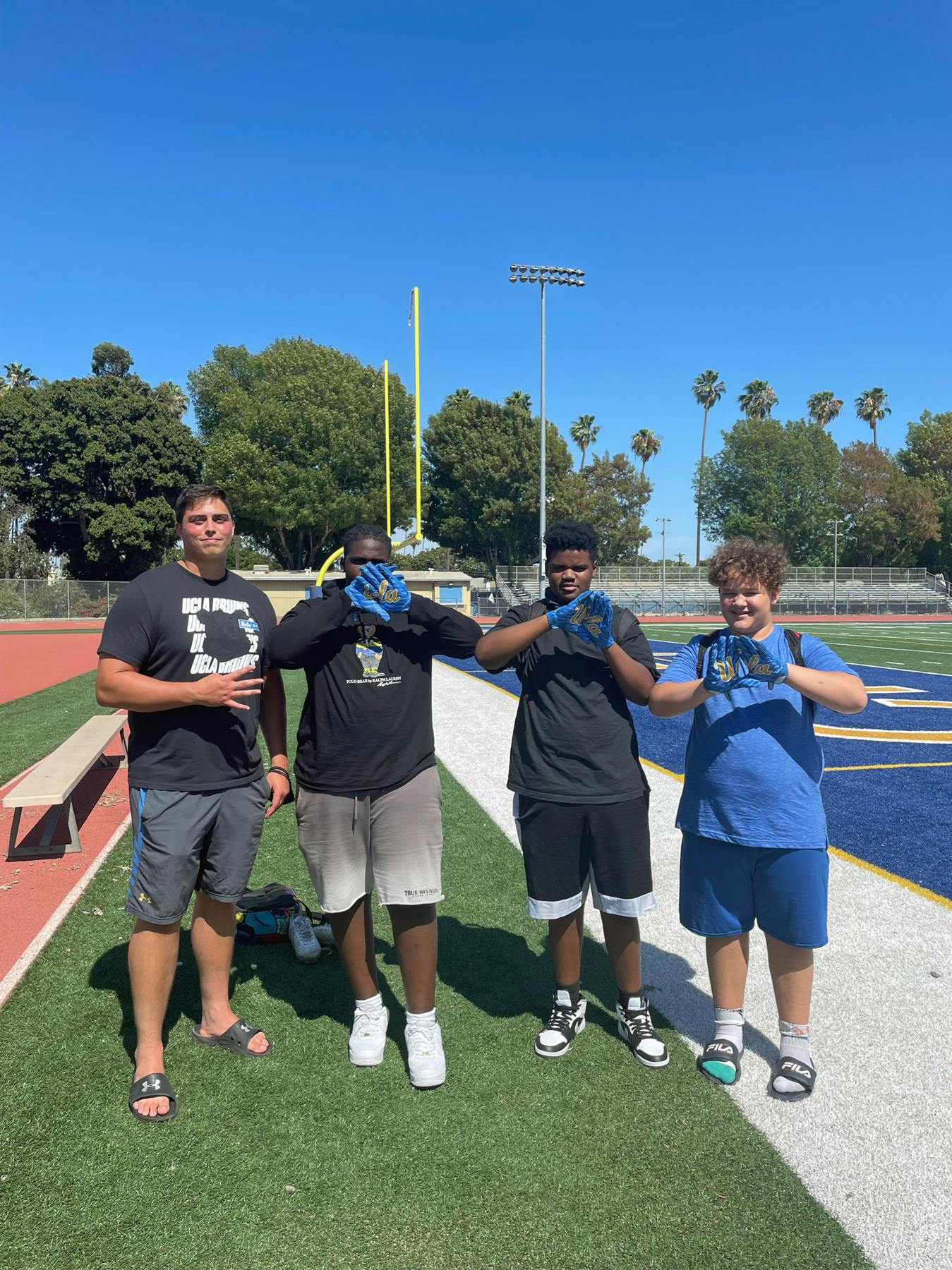 Brown, who had prior coaching experience with younger students while in high school, says that the Transformative Coaching and Leadership program has given him new tools with which to propel his mentees.
"I am still currently mentoring two student athletes from the Crenshaw team, and they are doing a good job staying in high spirits," says Brown. "I am able to talk with the athletes and find out their motivations for doing what they love, and also dive deeper into conversations about off-the-field problems as well."
Grattan says that one of the aims of the UCLA Transformative Coaching and Leadership program is, "to understand the entire aspects of an athlete."
"You have to understand that everything isn't about football," he says. "Football isn't the only thing going on in these kids' lives. Especially in an inner-city school, there's thousands of things that can be running through these kids' heads, at these young ages. They're all very intelligent kids. So, what's the issue behind it? Are things going on at home, are there different distractions out there, that they're not focused on school? You can't just [say], 'Why are you getting bad grades? You're not trying hard enough.' That's not how that works.
"In high school, I went through the same thing. I thought teachers were out to get me that that they thought I was a big, dumb football player who didn't care about school, and they didn't worry about me. But if you go to a teacher or a professor during office hours and talk to them, they realize, 'Oh, this kid actually cares and is trying to put forth an effort – he's not just slacking off. Let me help him.'"
Pelikhova says that the program is seeking to expand to include UCLA's women athletes mentoring their high school counterparts, after the Crenshaw High athletic director requested that the University's female volleyball players pay a visit to the Crenshaw team, which Pac-12 Player of the Year and TC&L graduate student Mac May did during the fall quarter. Pelikhova is also connecting with University High School and Venice High School for the possibility of mentorships at those campuses.
Brown, Genmark Heath, Grattan, Knight, and Marrazzo are graduating this fall. Beyond the possibility of a NFL career, Pitts and Grattan both look forward to coaching in the future.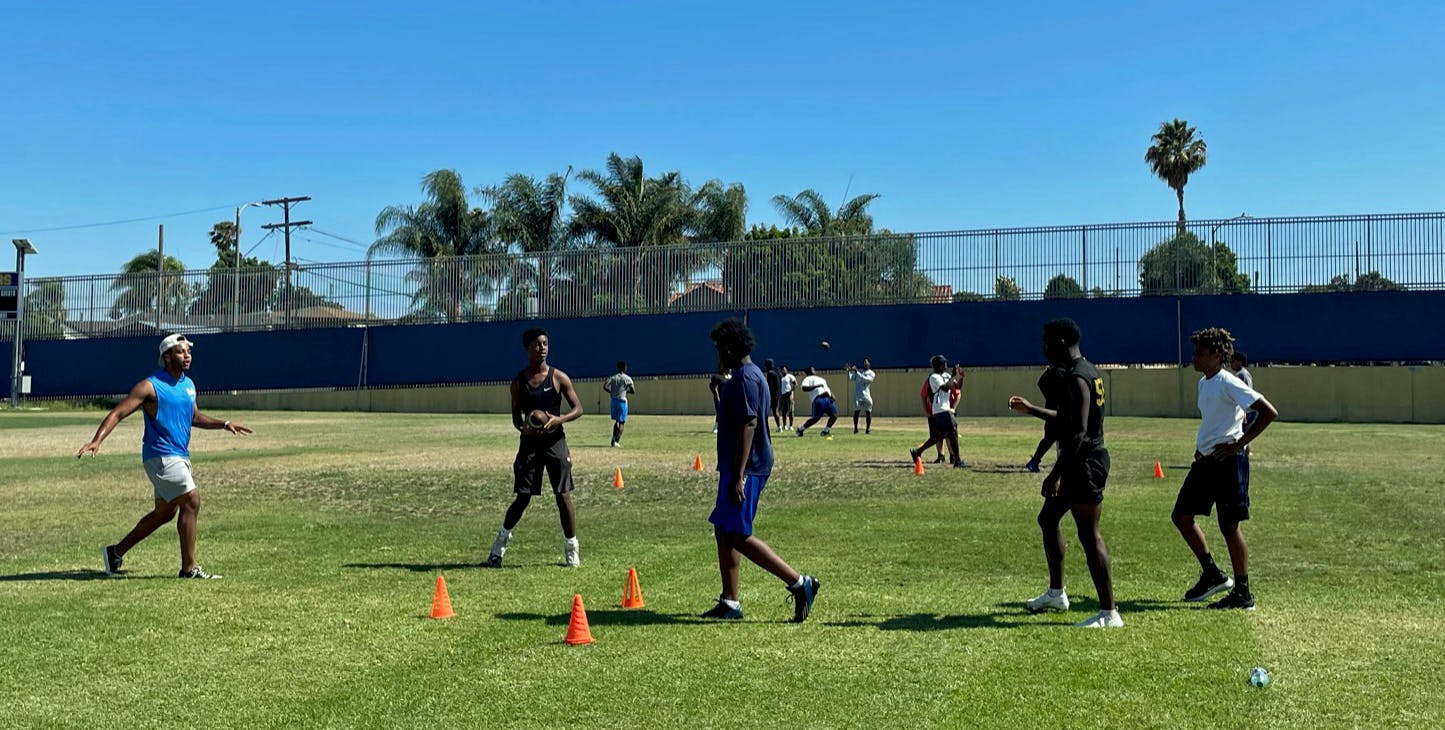 "I've been around football my entire life and I've coached freshmen that have come in, and I tell them techniques and what to do what not to do, but I never really had a hands-on experience with coaching fresh kids, some of whom have never played football before," says Grattan. "It really helped me get back to fundamental stuff, what do you need to focus on first, how to build them up as players.
"[Transformative Coaching and Leadership is] an amazing program and I think it's not just beneficial if you want to be a coach," he says. "Diversity, equity, and inclusion are huge in our program. We talk about this in every single one of our classes, to make sure that people are doing things in the right way, in the ethical way, in the moral way, through all levels of everything. There's no [sports], there's nothing without administration. It's an amazing program that can be useful in all sorts of different ways."
Above: Defensive back Morrell Osling, III (at left) is one of eight UCLA Football team members to mentor student athletes at Crenshaw High School.
UCLA Football players, who are graduate students in the Transformative Coaching and Leadership program of SEIS, mentored two student athletes from Crenshaw High School this fall, led by UCLA lecturer, Julia Pelikhova, Ed.D.
(L-R, starting third from left) Sam Marrazzo, Morrell Osling, III; and Shea Pitts; (L-R, seventh from right) Pelikhova, Quentin Lake, Brittain Brown, Paul Grattan, and Jordan Genmark Heath
UCLA Football's Shea Pitts (at far left), Brittain Brown, and Qwuantrezz Knight, ran a field practice with student athletes at Crenshaw High School as part of a mentoring component of their coursework in the Transformative Coaching and Leadership program at SEIS.
Photos courtesy of Julia Pelikhova