Making the Case for Social Justice Educators in America's Schools
Across academia, among philanthropists, and in the conversations of educators and advocates, one often hears lofty ideas and idealistic plans for "fixing schools" or " reforming education." They are often accompanied by calls for addressing the achievement gap of low-income, mostly Black and Brown students, to somehow address what is perceived as deficits in their thinking and learning. 
Lofty ideas and plans are sometimes quite good and offered with the best of intentions. But the reality is the real work of helping students learn and thrive falls to the educators who go to work every day in schools serving increasingly vulnerable students.  The teachers and principals who show up before the bell rings and stay after the school day ends,  the ones who hear the stories, see the tears and struggles and applaud the successes.  The ones who see and understand the real and difficult challenges that place learning at risk, but that also can see the assets and strengths among the students, families, and community that are too often ignored.  It is to these community educators, who are dedicated to the school communities they serve, that the heavy lifting of increasing learning, opportunity, and justice falls. And they need real and meaningful training and support to meet that challenge.
Two educators at UCLA, Annamarie Francois, and Karen Hunter Quartz, are shining a light on strategies to help K-12 teachers and leaders succeed in a new book that makes the case for the development and support of social justice educators.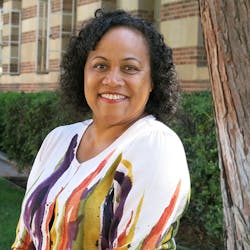 Drawing on the experience of Francois, Quartz, and their colleagues and partners at UCLA Center X, the book, "Preparing and Sustaining Social Justice Educators," illuminates the need for and challenge of developing and supporting educators who are not only committed to racial and social justice for their students, but those with the deep knowledge and skills needed for high-quality instruction and learning, and the perspective and resilience to disrupt educational inequality in pursuit of opportunity and justice.
Beginning with the aftermath of the not-guilty verdict in the 1992 trial of four Los Angeles Police officers who viciously beat Rodney King, a Black man, the book traces the transformation of a very traditional UCLA teaching program into a groundbreaking effort to prepare and support teachers and school leaders to further learning and opportunities in low-income urban communities through the pursuit of social justice. That effort has come to be known as UCLA Center X.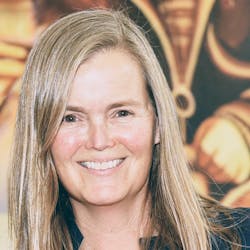 It is not a tale though of a program rising phoenix-like from the ashes to save poor students and fix schools. Rather, it is about the development of a vision, the learning, and collaboration, the successes, and failures, the strategies and practices, the effort and diligence that has gone into a 30-year effort to build a "beloved community" that supports and sustains educators as they transform our public schools to create a more just, equitable, and humane society. And it is about the work and challenges that lie ahead.
"Center X is one of many beloved communities of educators across the globe. As a movement, we share the values of inclusion, respect, and love," Francois and Quartz write. "We unite around a common set of beliefs about the importance of culture, identity, and justice. We also unite in political struggle. We ask for trouble."
Francois and Quartz are joined by 27 other educators and researchers affiliated with UCLA to tell the story of Center X and make the case for social justice education. Together they share the experience of Center X in hopes that it ignites the imagination about what is possible.  
The book is organized in three parts.
The first sets the vision for UCLA Center X and the work that has gone into "making the rhetoric real." This section establishes the guiding principles, from a commitment to an agenda of social justice to a constant focus on self-renewal. It also reframes teacher education as a transformative response to racial injustice and highlights efforts to understand and advance the measurement of teaching quality in ways that deepen teacher learning. 
The section begins with an article written 25 years ago by UCLA Presidential Emeritus Professor Jeannie Oakes, often referred to as the mother of Center X, in which she sets forth a vision and the elements of a new effort to transform the UCLA Teacher Education Program into one committed to social and educational justice for low-income children of color in Los Angeles.  They are, she admits, asking for a whole lot of trouble.  But Oakes also makes clear their commitment to "the view,  however idealistic—that schools and teaching for low-income racially, culturally, and linguistically diverse children can change."  And she lays out the key elements of how that can happen, outlining a new vision for a culture of teacher preparation and role for teachers as caring advocates, reflective practitioners,  community builders, and change agents.
Francois then joins with Jarod Kawasaki, an assistant professor at California State University, Dominguez Hills, and a former faculty member in the UCLA Teacher Education Program, to delve into how UCLA Center X organizes teacher preparation to support the development of community teachers. 
In the opening chapter, Oakes calls for teacher preparation programs to develop teachers with the "commitment, capacity, and resilience" to fundamentally change the systemically oppressive structures and cultures within schools. Francois and Kawasaki write that they see this mandate as "a fundamental responsibility of a community teacher, one that explicitly seeks to dismantle and disrupt systems of oppression through transformative pedagogies, deep relationships with students and their families, and collective action for and with the most vulnerable communities."
The second part of the book explores how Center X develops and sustains community teachers through professional learning. This section highlights coaching that reframes the achievement gap to be seen as an equity gap, seeking to change perspectives and practices that may be culturally oppressive and exacerbate inequalities, and the provision of "cradle to grave" professional development focused on furthering equity and social justice. It also looks at the role of research-practice partnerships in establishing a common vision of public schooling and transformative relationships and takes a deep dive into strategies that have enhanced and sustained instructional practices that increase student learning and engagement.  The section closes with a close look at the formation and role of the Principal Leadership Program (PLI) at Center X, the process of preparing educational leaders for justice, and the need for continued support and inquiry of school leaders.
"To educate our most vulnerable children, it is imperative that we re-think how we support new teachers coming into the field and shift the way we think about coaching for all teachers," writes Tonikiaa Orange and Jo Ann Isken of UCLA Center X.
"Preparing teachers for social justice is not enough," added Jody Priselac and Megan L. Franke, of the UCLA School of Education and Information Studies.  Franke, chair of the UCLA Department of Education, and Priselac, associate dean of community programs, write,  "Idealistic, well-prepared, and justice-oriented novices far too often find themselves assigned to urban schools where pedagogies of poverty are the norm. Creating ongoing opportunities for professional learning becomes essential for supporting urban teachers and their students. The challenge is to create ongoing learning for teacher education students that centers social justice and a view of learning that is transformative."
The final section of the book explores the role of Center X in transforming schools. The book highlights the ideas, research, and strategies and practices developed through school-university partnerships that have inspired and furthered the work of groundbreaking community schools affiliated with UCLA, and in turn, how the collaborations with these schools and educators have inspired and enhanced the work of Center X and others at UCLA. 
One chapter highlights the partnership with Roosevelt High School and how the University has supported the social justice mission and work at the historic Eastside institution. Another tells the story of the development of UCLA Community School in Los Angeles's Koreatown, where students, parents and educators are engaged in a learning experience that is furthering knowledge and opportunity, and have created a democratic culture where teachers want to work and stay. The section closes with a look at the challenge and successes of working in partnership with parents, community members and educators to transform a historic but long-neglected school in South Los Angeles, now known as the Mann UCLA Community School.
In the chapter on UCLA Community School, Quartz and  Community School colleagues Leyda Garcia, Queena Kim and Marisa Saunders describe how the school has strived to develop a workplace culture that supports teachers' collective agency to make a difference in the local community—alongside parents, students, university partners, and many others. The culture is defined by respectful, supported, and productive collaboration to solve problems, such as how to educate in two languages, evaluate teachers, or mainstream students with disabilities.  It is also a school culture that is deeply democratic and reflexive, where it is routine to ask, "Does this advance social justice?"
As noted, the development of UCLA Center X was sparked by the fires lit in frustration at the injustice of the ruling in the police beating of Rodney King. This new book, "Preparing and Sustaining Social Justice Educators," is being published a little more than a year after the killing of George Floyd shocked the nation and led to protest in cities across the United States and the globe. It is abundantly clear that racism, inequity and injustice remain. The authors of the book are well aware of this stark reality, but in the story of UCLA Center X, they lay out a strategy for continuing the fight, for learning, collaboration, renewal, and enduring effort in a quest for social justice. As Oakes notes in the book's closing, "Center X has not made the world safe, healthy, and decent; but it continues to teach and nurture those who would make it so." They are, in the words of the late John Lewis, asking for good trouble.
Preparing and Sustaining Social Justice Educators, is edited by Annamarie Francois and Karen Hunter Quartz.  Published by Harvard Education Press, September 2021. Contributors: Melissa S. Arias • Heather F. Clark • Carla Estes • Megan L. Franke • Leyda Garcia • Ben Gertner • Emma Hipólito • Jo Ann Isken • Lynn Kim-John • Carrie Usui Johnson • Orlando Johnson • Jarod Kawasaki • Queena Kim • Jon Kovach • Ung-Sang Lee Imelda L. Nava • Jeannie Oakes • Tonikiaa Orange • Nancy Parachini • Jaime J. Park Leticia Perez • Jody Z. Priselac • John Rogers • William A. Sandoval • Marisa Saunders • Christine Shen