Liza Mardoyan: MLIS Grad Finds Silver Linings, Salutes the Blue and Gold
Changing careers and deciding to pursue her MLIS with a specialization in Rare Books, Print and Visual Culture at UCLA's Department of Information Studies has been, according to Liza Mardoyan, "the hardest thing I ever had to do."
"I didn't know what my graduate experience would be like," says the former Newport-Mesa Unified School District nurse, who will represent the Department of Information Studies as the student speaker in a virtual commencement ceremony for the UCLA Graduate School of Education and Information Studies. "But it was the most fulfilling – every minute, every challenge, every tear, every agony, every late night, but every joy and success as well was worth it. The experiences and the connections were amazing – I have no regrets, I would do it all over again."
A native of Beirut, Mardoyan has enjoyed a multicultural upbringing, and speaks four languages, including her heritage tongue of Armenian, Lebanese Arabic, Italian, and English. The deep connections between the Armenian and the Italian communities in Beirut led her to an appreciation of the Italian culture and eventually, her move to Venice, where she was involved in the Armenian community. 
While in Italy, Mardoyan would make weekly visits to the Island of San Lazzaro, home to the monastery of the Mekhitarists, an Armenian Catholic congregation in Italy since 1717, to visit the museum and the church. She would explore the rare books in the library and the ancient manuscripts in the rotunda-shaped Manuscript Room, where one of the earliest extant Armenian manuscripts from the 9 Century, the Gospel of Queen Mlke, is on display. 
"Because my job was August to June, every summer I would go back to Venice and pursue writing, music, and visiting libraries," says Mardoyan, who lived in Italy for four years before moving to Los Angeles. "I fell in love with the art, the music, and the language. I was always attracted to the humanities [and] always felt the pull between science and art. I always had this duality in me so, I knew I had to do something with books. I was thinking about changing my career, but it wasn't done overnight, it wasn't a hasty decision. I thought about it carefully for four years."
Mardoyan explored the possibility of attending UCLA, which she says was her "dream University" since attending the American University of Beirut, where she completed her undergraduate degree. She says that UCLA is highly regarded in Beirut and considered a sister institution to AUB, and as a part of a pipeline for students to pursue advanced degrees. What finally helped Mardoyan make her decision was a chance encounter.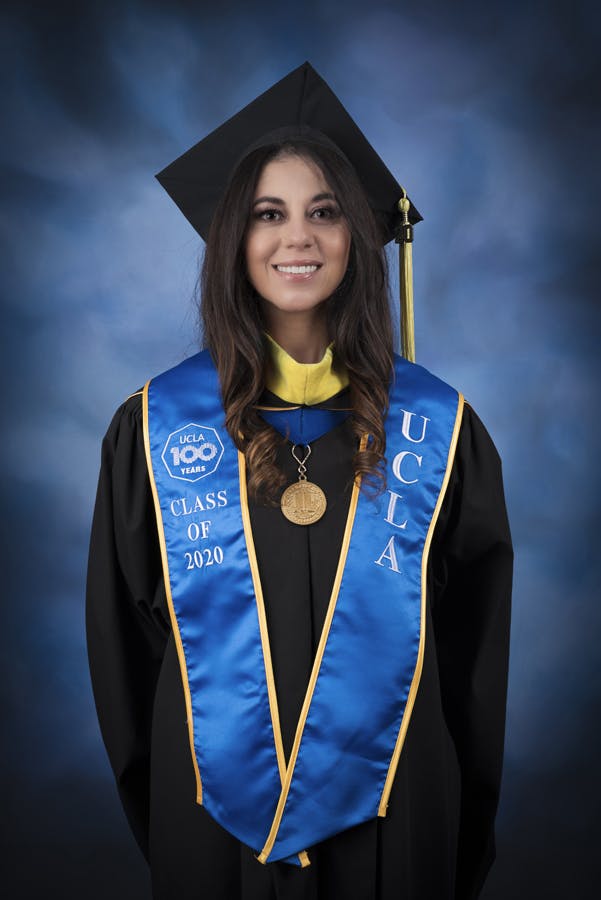 "The turning point was when I attended the 47 California International Antiquarian Book Fair in Pasadena in 2014," she recalls. "I met an Italian woman who had moved to the United States, graduated from UCLA's MLIS program, and was working at the Getty Center as an Assistant Curator of Photographs. We conversed in Italian and I asked her about the program, the prospects and the reality of it. She spoke with passion, enthusiasm, and underlined the surprise factor about UCLA's MLIS program: how it can lead to a myriad of careers beyond conventional librarianship. This brief encounter served as the catalyst for me to take the next steps: set a goal and work hard toward achieving it."
Mardoyan says that the UCLA Department of Information Studies was highly appreciative of her previous life and career experience, and actually regarded it as an asset.
"In our cohort, there are students who are changing careers as well," she says. "But for my personal case, I thought it was going to be a hindrance. Instead, faculty members reassured me by stating that "That's actually a strength, that you've been in the world, you've worked, you have leadership qualities." That made me feel so welcome and at ease, because during the first quarter, I felt a little bit of the imposter syndrome and I felt the odd woman out. But they didn't make me feel like that. You can come from any walk of life, from any background – and they will give you the tools and will [build] on your strengths."
Mardoyan states that UCLA exceeded her expectations and is grateful for the opportunities provided her during her time as a graduate student and in the future as an alumna. The many opportunities at UCLA that Mardoyan has been able to apply her leadership skills to include her position as a teaching associate in the UCLA Department of Italian for the last three years; serving as the co-chair of the Department of Information Studies' Student Governing Board; and as president of the UCLA Student Chapter of the American Library Association.
In addition, Mardoyan served as the student liaison and representative on the UCLA IS Professional Program Committee and at Faculty Meetings. She has also been a member of the UCLA Graduate Student Orientation Planning Committee. Mardoyan has also been able to enjoy her love of music as a member of the UCLA Chorale.
The most significant opportunity that Mardoyan says will greatly enhance her future career has been serving as project manager for the California Rare Book School since 2018. A two-time alumna of CalRBS, Mardoyan was faced with extra challenges this year, when the COVID-19 pandemic drastically changed the way that the summer intensive courses would be held. Working in collaboration with Susan M. Allen, director of CalRBS, she has so far been successful in engaging faculty from throughout the rare book profession to teach, and in opening the sessions for applicants,  to attend via Zoom in August.
"Not only do I harness my skills of leadership and management working with faculty, staff, students, and professionals from around the world, but the California Rare Book School also provides opportunities to network with individuals from the rare book arena, especially booksellers, catalogers, and professionals," she says.
As a first-generation graduate and an immigrant, Mardoyan says that she dedicates the completion of her MLIS degree to her late father, Kevork Mardoyan, to whom she was very close. She says that she knows, "… he is looking down from the heavens, proud of my achievement."
Mardoyan especially thanks and honors her mother, Shoushanik Aintablian, who was planning to travel to Los Angeles from Beirut to watch her daughter receive her degree on the UCLA campus, but is now unable to do so, due to COVID-19 travel restrictions. 
Mardoyan says that her mother, who is 80 years old, has been a strong supporter in her decision to leave nursing and embark on a new career in academia and rare books.
"I spoke to her three years ago and said, 'Mom, I'm going to change my life from nursing to librarianship,'" recalls Mardoyan. "[My mother] didn't know why I was giving up a solid, high-income career, and a beautiful life to chase rainbows, yet without hesitation she said, 'Go for it! You were not bestowed with talent to have an ordinary life.'
"She knew she had to sacrifice her comfort and needs, since her income was dependent on me and was going to decrease, once I became a full-time student. I couldn't have done this without her blessing, encouragement, and countless prayers. Words are not enough to show my mother the depth of my gratitude. I know I can never repay her back, but I hope I will make her proud when she sees me on that virtual graduation 'stage.'"
Since in-person commencement ceremonies have been cancelled at UCLA, Mardoyan says that her family – one brother in Rome, another in Vancouver, her sister in Beirut, and the rest who are scattered across the globe in Beirut, Detroit, and Cyprus – are looking forward to sharing in her celebration remotely. Mardoyan takes pride in joining the Bruin family for life as an alumna and looks forward to serving patrons and students in her new career. She was also chosen to sing the UCLA Alma Mater, "Hail to the Hills of Westwood," during this year's virtual conferring of degrees, an honor that she says caught her by complete surprise and is the icing on the cake. 
"A lot of us are away from our families, and I really miss my family," she says. Mine has been connected with me via daily messages, phone calls, and video chats – I didn't feel alone, I had their emotional support. I'm happy we're going to do a virtual commencement, so they can chime in. And they're going to see me speak and sing the Alma Mater, so that's a silver lining."
Mardoyan thanks the UCLA IS faculty for the support they have given their students during the COVID-19 pandemic, through the challenges of completing degrees that depend so heavily on hands-on experiences, in a new remote learning environment.
"Because of the compassion and leadership that our instructors showed, they gave us the tools to navigate these waters," she says. "I'm very, very grateful to the faculty. They really listened to us when we needed them, even though they are human beings themselves going through the same stress, they were very open to us, they were compassionate and supported us, especially Professor Jean-François Blanchette, the Chair of the IS department. I would like to extend special thanks to my advisors Professor Jonathan Furner and Professor Johanna Drucker, and Professor Ellen Pearlstein. There was a real sense of collaboration."
More recently, the Class of 2020 will also remember their graduation season as a time of civil unrest in the face of racial injustice and abuse of power in the wrongful death of George Floyd on May 25 at the hands of Minneapolis law enforcement when under arrest for an alleged, non-violent crime. Mardoyan says that as the co-chair of the Student Governing Board of UCLA IS, she wants to relay the message that her cohort, "stands in solidarity mourning with our fellow Black Bruins, express our deep sadness and rage against police brutalization, and demand justice."
"As a direct descendant of genocide survivors (my great-grandparents were all killed during the Armenian Genocide in 1915), and the fact that the perpetrator – the Turkish government – still denies that the Genocide happened, I deeply empathize with the injustice that the Black community is suffering and I feel their pain," says Mardoyan. "Until there is confession and full acceptance of responsibility of the inhumanity and the committed crimes by the perpetrators, there can be no reparations, wounds will stay open and will not heal, and there can be no justice or change." 
Mardoyan would like to acknowledge her close circle of best friends outside UCLA, who have supported her throughout her transformative journey. She says her cohort in the UCLA MLIS program have also been a supportive community of friends throughout her graduate school experience and she has made new friends for life. 
"With #alonetogether, we're talking about COVID-19," she notes. "But it really exemplifies the graduate experience: you're alone, but you're together. There are a lot of solitary moments, a lot of isolation."
"We came together as a community and we navigated this turbulent and unprecedented time with grace, fortitude, and resilience. That sets us apart in a way that our future will be bright, because once we get through this, there is nothing that we cannot do. We became stronger, together."
Mardoyan says that she would encourage anyone who might want to switch careers and explore a new path as she did, to take the steps to do so, despite any misgivings.  
"I thank the United States, because here, you can reinvent yourself," she says. "You can do two or three careers in a lifetime and no one will look down at you. Times have changed. Before, if you tried different paths, they would call you a "jack of all trades and master of none." But now, if you think, "I'm curious, I have an abundance of curiosity and would like to try something else" you have the ability and the opportunity to do that. This is a country where dreams can come true, you just have to work for them."
"At first, I did have fear and doubt," Mardoyan says. "I asked myself, 'Is this the right decision? I'm older… am I going to find a job?' Those are questions you ask yourself when making a life altering decision, but go forward with all your strength, faith, and all your determination. Put one foot in front of the other, put your head down and do the hard work. Once you do the day-to-day hard work, the impossible becomes possible."