Voices from the Field: The Impact of COVID-19 on Early Career Scholars and Doctoral Students
A new study examines how the pandemic affected scholarly research and early education careers of those who were suddenly at a precipice of funding shortages or program cuts.
The past year because of the COVID-19 pandemic, there has been a seismic shift in how the future of scholarly research in education has been affected. UCLA's Cecilia Rios-Aguilar, together with colleagues from AERA and the Spencer Foundation, wanted to identify specifically the challenges being experienced.
"We knew that the pandemic could have a disproportionate impact on some groups, including early career faculty and re- searchers, women, scholars of color, and doctoral students. We wanted to lend our expertise in the moment and thought it would be an important contribution to listen to and gather information about the experiences of scholars and doctoral students at this critical time."
As the COVID-19 health crisis created global disruption of unimaginable scale nearly every sector—business, government, schools, and universities—closed or were forced to take their day-to-day operations online or cease to operate. Higher education, specifically, was also deeply affected. Like most in the non-academic world, universities and schools had to manage the transition of classes and instruction moving solely online, reduce staff and services due to stalled revenue streams and complete disruption of what would count as normal on a college or university campus.  
Also adversely affected were those doctoral and early career scholars who suddenly had their work drastically change.  Research projects were slowed or suspended due to the health and well-being of family members who were now working from home sites, caring for their children who were also in online instruction or home schooled, yet still facing their own professional responsibilities.  
In order to understand the impact that the pandemic was having on education researchers, the scholars of this study set out to gather information on AERA and the Spencer Foundation—two organizations to which most of the participants belonged—to understand how researchers coming into the field were being affected by abrupt changes in the wake of the pandemic. The goal of the study was to take a small group and understand the impact early on, assess, and then make recommendations for continuing research and support.  While the results from the focus groups were informative, they were not necessarily generic to all career researchers given the limited scope and number of participants. Yet what we can say is that it provides important lessons for higher education leaders to consider for the future.  
"WE'RE OVERWHELMED"
If there was one theme common to all focus groups, it was how so many lives were suddenly thrown into utter confusion or suspension. Some felt calm, relieved, while others had higher than usual stress, anger, and uncertainty. One key concern was how their research projects and trajectories were being affected by the pandemic. Some emphasized derailments or delays; others noted changes they had made or were contemplating making. Less than three months after the onset of the pandemic, participants were reporting that their research lives and their studies had changed because education across levels and contexts was also rapidly changing. Their own research would undergo, or need to undergo, a complete overhaul that was still in development or that relied on in-person fieldwork. For a good many the impact would be most acutely felt with the connections established in low-income communities, primarily with students of color. Many researchers reported they had to shift to higher privileged populations who had the means of connecting online when their institutions' financial research funding became scarce. Whether education researchers were in tenure-track, contingent faculty, or postdoctoral positions, working for research organizations or still in doctoral programs, many were left wondering if their planned research projects would be seriously delayed or happen at all.  
The Key Topics of Discussion for Each Group Were:
Research impact and productivity 
The impact on teaching and mentoring 
Sense of professional loss or gain 
Employment status, career trajectories and financial issues 
Home-family-work balance  
Feelings and emotions 
Institutional response and responsiveness  
Inequity/inequality in access, opportunity, and institutionalized exclusion
SUPPORT
A major concern shared amongst participants was defining and understanding how their respective institutions were fostering support both broadly and specifically within a program. A few early career scholars were suddenly shifted by their departments into other fields and away from their research. They also reported the absence of outreach from institutional or scholarly leadership to help them navigate the expectations given the challenges posed by the pandemic.  For example, some were called upon to support local school districts in planning for remote learning; others were asked to pick up and prepare to teach extra courses at the last minute; and still others needed to place their attention on their home and family. Participants recognized that their institutions were man aging multiple parallel crises but the lack of access to receiving more funds or the ability to provide more senior-level guidance became highly problematic.  For those who were working outside of academia, (i.e., employed by schools or school systems or research organizations), there were also many questions raised as to whether their research could continue or if it would all be suspended until classes resumed in person. Yet, there were some who believed it presented an opportunity to reexamine curriculums. One participant said, "[W]e're feeling like this would also be a great opportunity to really start investigating and looking because school is not going to be like what it was before [the pandemic]."
THE IMPACT ON TEACHING
Many colleges and universities over the past decade have switched to online instruction. For participants in the study, transitioning to Zoom or other types of virtual platforms was not as great a challenge as their counterparts felt at the primary and secondary levels of education. College students in many of these classes had found new ways of learning together using various applications that made the enormous amount of time in vested in planning and moving to online instruction worthwhile. Yet technology inequity (reliable internet, functioning devices, etc.) to fully participate in online instruction, particularly for students of color, was still an issue. The pedagogical challenges to support student learning were for some as daunting as experiences by lower-grade-level educators. One participant said, "Many of my students did not have internet or had to drive to campus to sit in the parking lot in order to attend class. If you have kids, that means you're in a car with [them] having to try to participate in a class… They're very resilient, but their learning environments and situations definitely impacted them academically and emotionally throughout." 
Others worried about whether faculty and other instructors were well situated to teach or to learn from home sites, with complexities including household demands, the adequacy of private space, and sufficient equipment and internet speed. Some faculty mentioned that they had no equipment beyond their own personal computer or had to share with their kids who were being taught remotely. Others had to split time with partners or spouses who also needed access to those resources at home.  
Many of the focus group participants were women who shared stories about inequities and gender bias due to increased caregiving responsibilities which could have short- and long-term consequences. The balancing act of parenting and their own academic responsibilities had become hardships. Participants with children, especially young children, talked about the ways that being home with them affected multiple aspects of their working lives. They reported having limited time or energy left for work after attending to their children's needs, including taking on teaching roles, leaving them little capacity to focus on their own professional work. One faculty member said, "…When I write, I get into a groove. Like, I sit down, it starts coming, and I just have to get it out. But I can't do that right now because every two seconds, I'm hearing from the other room, 'Mommy, come here. Mommy, come help me.' Everything is disrupted."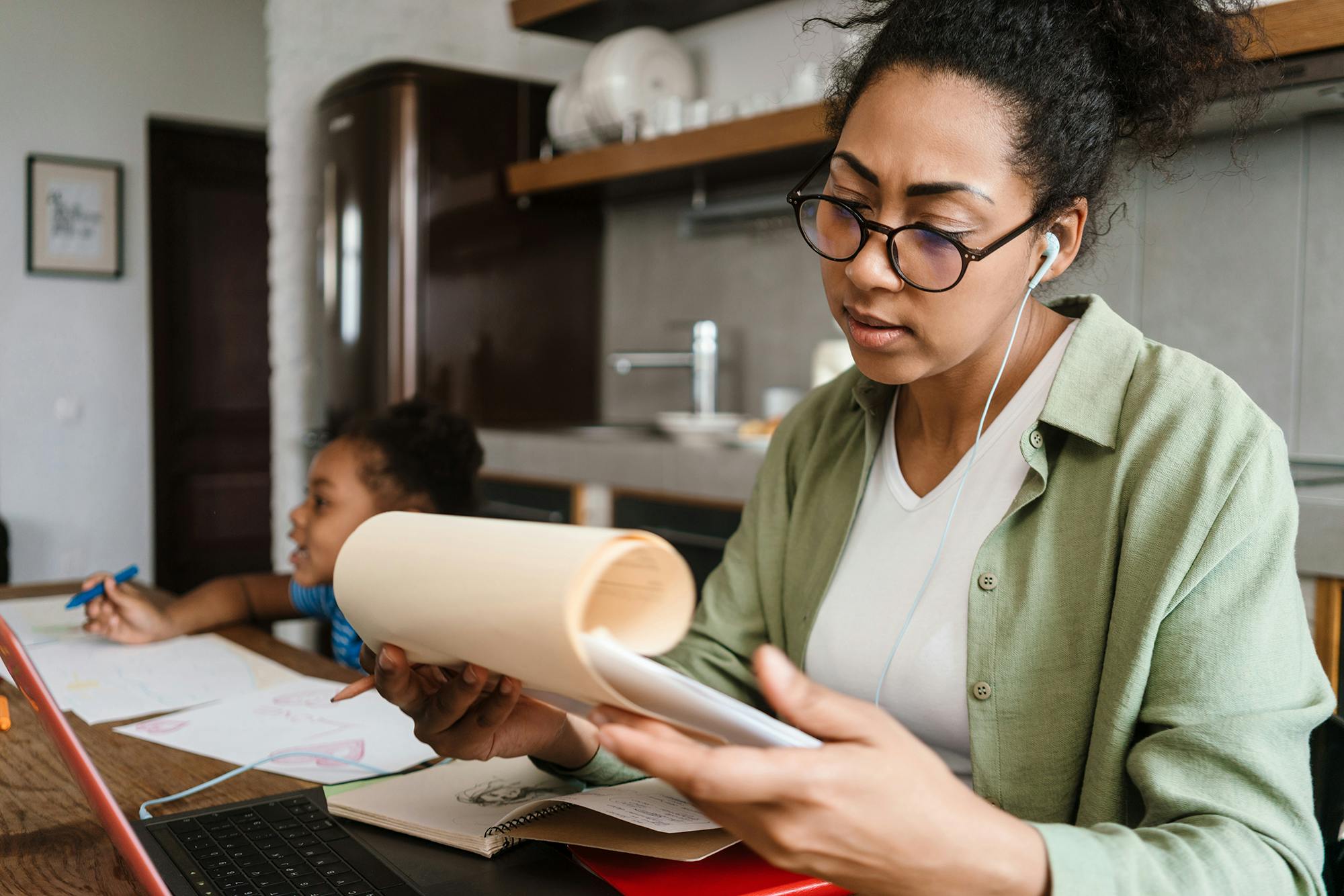 CONFRONTING RACISM
COVID-19 revealed the disproportionate impact on communities of color. The second pandemic—the murder of George Floyd in May of 2020; other shootings of persons of color before and after and subsequent Black Lives Matter protests nationwide—brought this into a much clearer focus and heightened existing concerns about systemic racism, anti-Blackness and institutionalized in equities in society amongst the participants. Some reported being stressed and stretched thin by multiple demands. They observed that higher education institutions and research fields were not impervious to being sites of racism, systemic bias and microaggressions. They shared that scholars of color had been asked to do even more professional work that included supporting students of color in a department where the participant was the only Black faculty member, teaching courses about race, or being the "go-to" person when racism and police brutality became more visible. "My chair sent out an email," one faculty participant recounted, "that said, 'I care about people of color in the communities of color,' which was a change, because it is a very White homogenous department. But, at the same time, there has been an increased request for training, or 'Now what do we do?' and 'Can you share your resources?' and then 'can potentially we make that into a certificate program?' And it's just a whole bunch of stuff that has made me just feel really overwhelmed…" 
Faculty of color were also handling increased emotional distress experienced by their White colleagues who were trying to make meaning of the protests and of what their own roles and responsibilities were. While some were deeply troubled by recent institutional responses, others saw indicators of change that they had not observed before. There were concerns that other faculty and administrators did not understand or recognize the strengths, wealth, and assets that they brought to their institutions. They sensed that key institutional actors failed to acknowledge and value the "labor of love" that was required to support equity in their institutions and mentor students of color. The question became how do they ensure genuine change in academia and other research settings going forward? As one participant commented, "We cannot start this conversation without an acknowledgment of why you've hired us…and what you need to do in order to facilitate that others engage in this work. And it's not just you. It's not the leadership. It has to be across the board."
JOB SECURITY
With budget cuts and funding shortages for research, one of the many concerns expressed was employment security, both immediately and in the future. Those who were not yet tenured might not be tempted to pursue that direction, while others were concerned that dwindling student enrollments could adversely affect their work status and funding support. Some doctoral students considered deferring graduation until the job market improved. One participant was informed that while she would not be terminated, her contracts would be renewed for a one-year extension only. The unstable financial guarantees affected the future ability for individuals and families to afford rent, mortgage, health insurance and other basic needs. One researcher said, "I am in a position, [where] my salary is dependent on the grants that we have. And anytime that those grants stopped, I am also stopped." 
Many appreciated the efforts their respective institutions were taking to support the challenges posed by the pandemic restrictions and how it was impacting their high levels of research and scholarship. But they also expressed that when a clear need for leadership in crisis was required, it was generally "technical and bureaucratic." At times, those messages seemed misaligned with the emotional and human demands of the moment; institutional communications were meant to perpetuate a sense of normalcy, yet the circumstances were anything but normal. Overall, those who spoke to the issue felt that institutional leaders had missed the opportunity to model the importance of relationships during times of crisis. Some scholars found attention to relational issues to be imperative for their own teaching and learning activity and would have appreciated more of such expressions in the leadership of their administrations. 
LOST CONNECTIONS 
Finally, so much that is key to high level research is peer to peer. The pandemic affected an ability to share research and scholarly challenges through nor mal connection with colleagues and other scholars. For some, there was still a great need to create spaces for these connections to happen (e.g., writing groups, informal gatherings) despite the pandemic. Many discussed the impact of reduced university resources on their opportunities for professional development and on paying for memberships to professional associations, for research support, and for attending conferences. Those working in settings outside of academia similarly expressed concern that they did not have the band width or resources to remain as professionally engaged. Others had created virtual networking opportunities—virtual happy hours, coffee breaks, and writing groups. Yet general networking events, such as with departmental colleagues, were less frequent and unfulfilling.  
CONCLUSION 
This past year presented an unprecedented opportunity to redress long standing inequities in all sectors of life.  Whether acting interpersonally, organizationally, or systemically, higher education leaders and senior scholars can work together to effect change in support of the next generation of education researchers. The study is continuing with a major national survey of early career scholars and doctoral students in education research. This will add to a further understanding of the impact of COVID-19 on the wide and diverse population that constitutes this field. There is also collaboration with investigators leading similar studies in other fields of science and scholarship so that together we can construct a fuller picture of institutional practices, challenges, and changes prior to, during, and as a con sequence of this pandemic. 
RECOMMENDATIONS 
While this study was limited to 58 participants and 18 hours of discussion, the experiences of our focus group participants have implications for the kinds of actions that higher education institutions, scientific scholarly associations, funders, and other leaders might consider. It is a moment to embrace and to consider needed changes in practices and policies that contribute to equitable and enriching places for early career scholars and doctoral students to work and thrive.
Provide funding that includes more material support to emerging scholars. "Soft" support in the form of childcare stipends, health and mental care benefits, housing etc. 
Refocus and invest in teaching and pedagogies. These would be built upon reconstructing learning environments and innovations in human and material resources. 
Build community and connect scholars. Professional societies and other higher education leadership organizations have an important role to play in creating strategies and solutions to conditions created by COVID-19. 
Involve faculty and early career researchers in the decisions that will impact their career trajectories. Faculty voices need to be engaged in developing explicit statements and processes around tenure review and/or contract extensions 
Support scholars with caregiving responsibilities— particularly while attempting to promote the research that institutions reward. 
Acknowledge racism and inequities in academia and other research settings and take anti-racist action. To be most powerful and relevant, policy development should avoid color blind and gender-neutral approaches and solutions that may not target resources effectively.