UCLA Writing Project: Nurturing The Writing of Middle And High School Students
A student in the UCLA Writing Project's summer writing program for middle and high school students invented a story about a young girl who was shy in person but was able to express herself in writing. Another student who will enter high school this fall spoke of learning how to critically evaluate information presented online and how to make his own arguments. Another learned the validity of writing in more than one language.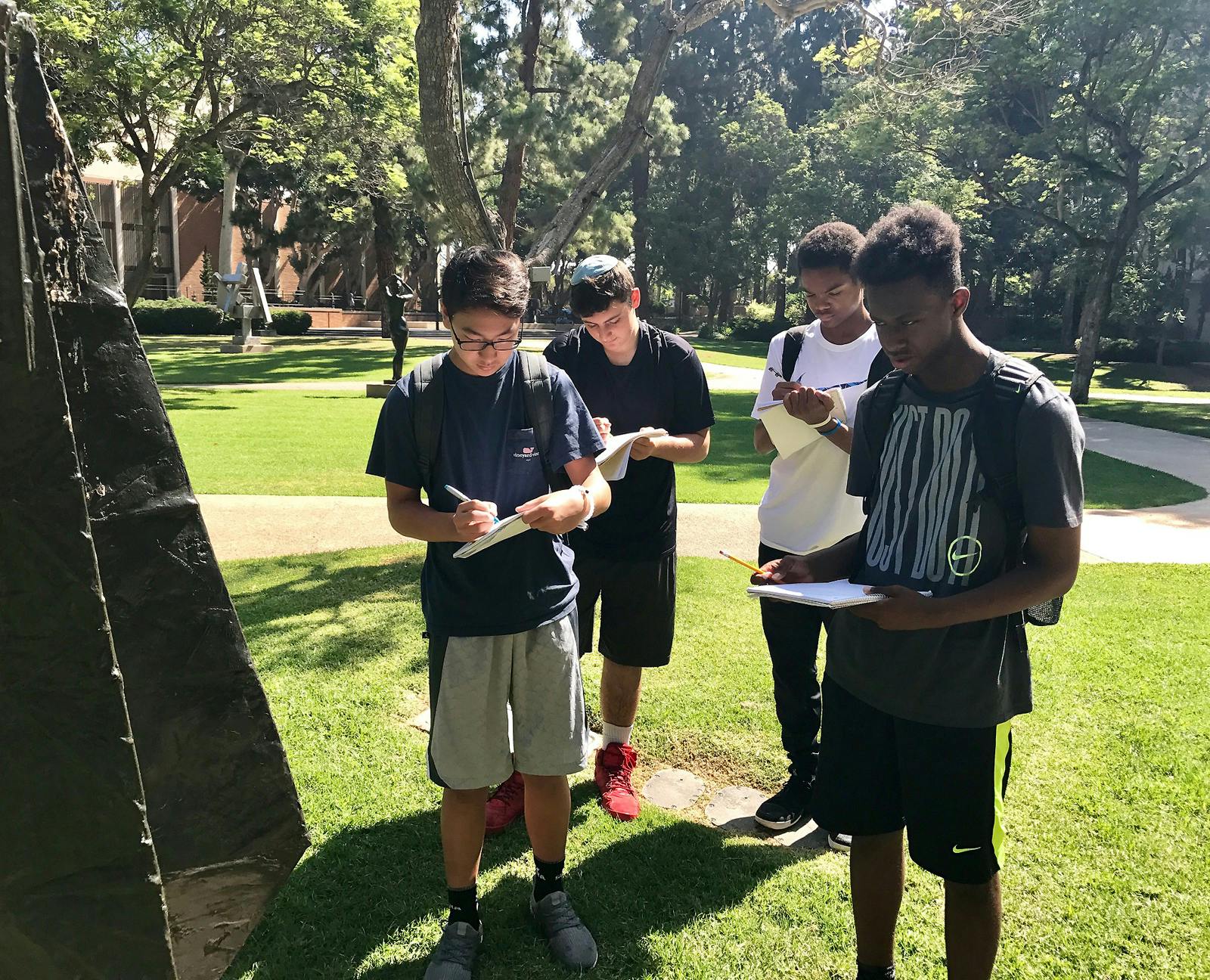 These are some of the experiences that more than 40 local students had by participating in Center X's "Writing in the Middle" and College-Ready Writing" workshops in July, taught by local teachers who are Fellows in UCLA's Writing Project. Carl Finer, who teaches English at Ánimo Jefferson Charter Middle School in Los Angeles, and Peter Olson, who teaches 10 grade English at Mendez High School in Boyle Heights, provided instruction during the two-week workshops on poetry, argumentative writing, personal essay, and memoir.
Writing as a collaborative effort is something that Olson and Finer focused on with their students.
"Whatever we do, we do together," said Finer, who taught the workshop on "Writing in the Middle." "That's pretty much a Writing Project philosophy. When they were writing their six-word memoirs, I just sat down at a table with the kids and started scratching out my own."
Olson and Finer also had ability to teach more creative forms of writing than they would during the typical school year.
"Because so much of high school English is geared toward analytical, expository argument, that's where a lot of my energy is going," notes Olson, who taught the workshop for "College-Ready Writers. "It's always nice to have opportunities to do other kinds of writing. I've been teaching English for 14 years, and the culture in a lot of school districts is that genres of writing were very much in these discreet boxes. 'Now we're going to do our literary analysis unit,' or 'Now we're going to do our persuasive unit.'
"My own experience of college writing – and not just college writing, but good writing out in the world – a lot of times it crosses those borders. It could be an argumentative piece but have some narrative elements in it. That's part of what makes it an effective argument."
As Writing Project Fellows, Finer and Olson applied their cohort's tenets of empathy and identity to their workshops.
"The main goal is to get them to feel more confident about writing… make it fun, break down those barriers that have been built up in school about structure, the five-paragraph essays," says Finer. "That's kind of nebulous, but that's my main goal, to get them to take a chance with a lot of different things, and to feel at the end part of a community of writers."
Olson says that the WP workshops afforded him and his students a chance to experience other levels of diversity by sharing their observations on the languages spoken at home or the ethnic foods that they eat.
"In the first few days of the workshop, we've been doing a lot of writing that invites students to share and reflect on culture and identity," he says. "Over the last couple of days, I feel like they've gotten ad sense of how diverse the room is."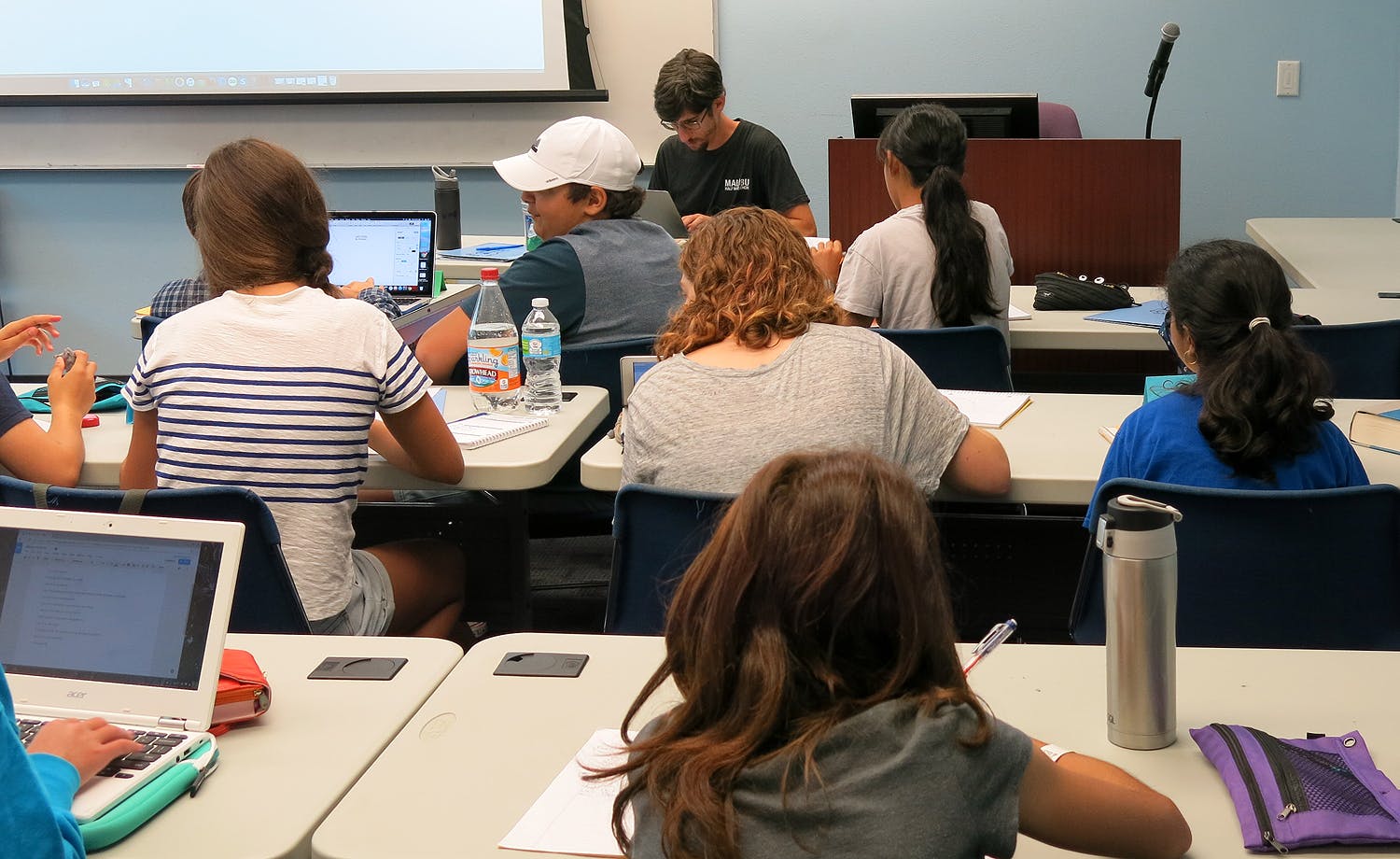 While preparing students with the mechanics for writing in college, Olson says that his workshop also emphasized a range of skills that are needed in all forms of writing. Although  students were enrolled in the Writing Project workshops for a variety of reasons – the most prevalent being parental "suggestion"– they came away with many practical and personal benefits, from improving their writing skills to finding a creative outlet and the ability to express themselves.
"I found it really useful to learn about the rhetorical précis, which is … responding to someone else's opinion and how they write an article, which I think will be a really useful technique to learn and use in high school and college," said Sierra, who is entering Crossroads High School this fall.
"One thing that was kind of interesting about the language essay was that we were encouraged to include a personal story," said Audrey, who will attend New West High School. "You're not usually supposed to use first-person in the essay so I thought that was a unique experience. You can acknowledge that you're not just analyzing a piece of text; you're forming a more personal connection."
"I learned that there isn't just one language you can use in your writing," said Liel, who will attend Yula High School. "You shouldn't take priority over one language more than another – they are both equally important."
"I realized I could look at a postcard and write a full story, whether I'd been there or not," said Millen, a student at Emerson Community Charter Middle School. "It was one of the activities. I didn't know that my imagination could take me that far, from one image to a full story."
"As a teenager, I didn't do a ton of writing on my own," said Olson, who now enjoys writing poetry. "But in school, I always kind of enjoyed writing. I just always felt like I could say things more clearly in writing than I could orally. If I sit down and think something through and write it down, it helps me clarify my thinking. I think that hooked me on it."
Faye Peitzman, director of the Writing Project, says that the summer workshops for young students provide innovative instruction and support, and that one of the goals is to expand students' stylistic repertoires. She says that the workshops provide a safe place for them to explore their possibilities for success as both academic and creative writers.
"The questions of how and in what ways you can grow as a writer are really interesting to us," she says. "One of the major things is to build confidence and identity as a writer. I think most of the students who are attending these workshops have some confidence in their ability, but a lot really don't think of themselves as writers. So I think this is one of the places where that can happen. In addition to the great teaching and support, students also benefit from this amazing university campus. I think that elevates their expectations of themselves."
Photo by Peter Olson