Sarah Bang: UCLA Community School Alumni Manager Builds Support for New Bruins
As a founding staff member of UCLA Community School, Sarah Bang ('99, B.A., Sociology; '09, M.A., Teacher Education Program) helped to grow a revolutionary LAUSD pilot school into a hallmark K-12 known for increasing the college-going rate in in the Koreatown-Pico-Union area. Her successful tenure as the school's former liaison to UCLA would have been sufficiently rendered her deserving of this year's Staff Innovation Award – but the two-time Bruin went one better. Now based at UCLA, Bang has created UCLA Squared, a support system for UCLA Community School alumni who now attend the University.
"If the UCLA Community School motto is 'Where we grow together,' it shouldn't stop just because you've graduated," says Bang, who is now the director of the TIE-INS (Together in Education in Neighboring Schools) Program and alumni manager for UCLA Community School. "UCLA Community School was [created] here. We should be supporting [students] and welcoming them home."
UCLA Squared provides mentoring from faculty and staff, as well as peer-to-peer mentoring for the 16 undergraduates who graduated from UCLA Community School and currently attend UCLA. There are quarterly gatherings and a Facebook page that Bang oversees. In addition, Bang is planning to create a computer lab/lounge in Moore Hall for these students to study, relax, and network.
"First and foremost, we want students to know that… Moore Hall is their home away from home, and to introduce them to people within GSE&IS, so they can come and say hi. We want them to put a face to a name and then later, when they bump into them in the hallway, they can feel connected. They had that at the Community School so we want them to have it as long as they need it."
Bang says that peer-to-peer mentoring, which was also an integral part of UCLA Community School culture, flourishes both at the University and at the Koreatown-Pico-Union K-12.
"Several graduates have gone back to UCLA Community School to help with alumni panels," she says. "We have a lot of alumni in general that come back for College Kickoff or helping [students] with FAFSA. So there's a lot of desire to come back and give back to the school.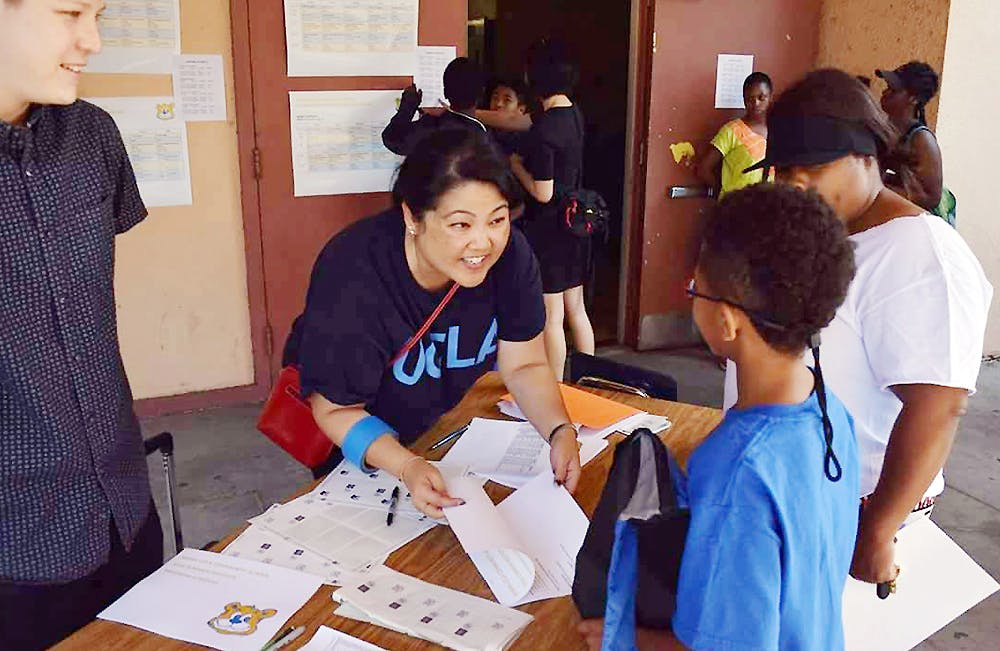 "We have a student who just transferred in to UCLA – as far as I know, he's the first student to go to community college and then transfer in to UCLA," says Bang. "We met for coffee and halfway through our conversation, he told me how he felt really compelled to go back to the neighborhood and the community and really just help sort of widen this pathway of access to college, to places like UCLA. He said he felt it was his duty to give back and that he wondered about people in his graduating class who might have needed extra help and he wants to do it. To have a young person go through the pipeline and look back … you can't create that."
Bang, who taught briefly in LAUSD before returning  to UCLA's Center X, says that the nationally renowned research center is "pretty incredible when you think about how many departments, people, support staff, directors, teacher coaches, and advisors there are. The thing about Center X that is super impressive is the diversity in the people and programs, but how they're all really focused on changing the face of education."
Having been at UCLA Community School since its inception in 2009, Bang says that the early days of creating a research-based pilot school in LAUSD was "the scariest, best time in all of our lives."
"It was like we were doing something really amazing, but we didn't always know what we were doing," she laughs. "The thing that makes the school amazing is its pilot school autonomy… and individualized things that made us unique like finding our own curriculum or having different ways of assessing.
"For me, it was being part of a community, not just with the teachers and students, but with the families, and feeling like a part of something groundbreaking," notes Bang. "Something bigger than me, bigger than all of us, and being able to do it with people who were not just my colleagues, but my friends. That's like a dream come true – you don't get that in most jobs."
As more college-bound seniors graduate from UCLA Community School, Bang hopes to eventually create alumni groups for them at local community colleges and at California State University campuses. Of her Staff Innovation Award this fall, she says, "I'm deeply honored, but it's funny to get an award for something that doesn't feel like work."
"I get to hang out with these amazing kids," says Bang. "I just help create space for them to meet. They shine so bright and illuminate us. We get recognition for something that really is about them."
Above: Sarah Bang (second from left) was honored with the Staff Innovation Award in September by Jody Priselac, Associate Dean for Community Programs and UCLA Community School alumni Jeffrey Hayes ('15; at left) and Nestor Cayetano-Cardenas ('13), who are currently attending UCLA.