Our Children Can't Wait: The Urgency of Reinventing Education Policy in America
New book edited by UCLA's Joseph P. Bishop sets forth a bold national education agenda 
For too long, education policy has often ignored a growing body of evidence of how factors outside of school can impact learning and life chances for young people before they even get to the classroom.
A new book makes the case that a national education agenda must center on community conditions to address structural racism like air quality, housing, public health, community safety, segregation and other issues as essential to improving learning opportunities, academic outcomes and the health and wellbeing of students. "Our Children Can't Wait: The Urgency of Reinventing Education Policy in America from Teachers College Press," is edited by Joseph P. Bishop, executive director of the UCLA Center for the Transformation of Schools, An accompanying podcast with the same name is now available on Spotify and Apple Podcasts with new episodes being released.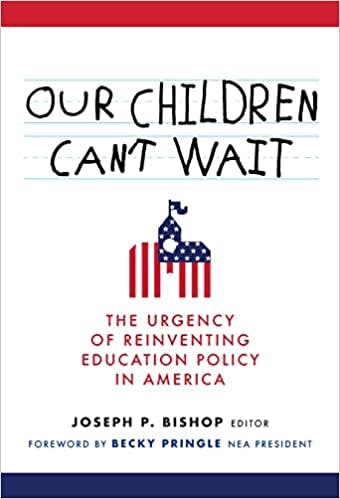 "Our Children Can't Wait," urges readers to rethink and reconsider education policy bridging scholarship, ideas, and original thinking by a wide ranging network of scholars from over 17 universities and organizations. The book presents a new equity focused roadmap for a comprehensive effort to enhance opportunities to learn and a redemptive path forward for reckoning with race in America.
"'Our Children Can't Wait' is the right book at the right time," writes Becky Pringle, president of the National Education Association, in the books' foreword. "It provides an unapologetically clear-eyed view at the way in which racism has shaped both our nation and its public school system, and supplies detailed roadmaps for navigating the way forward, toward a future in which every student—Black, White, Brown, Indigenous, and Asian Americans and Pacific Islanders, LGBTQ+ and differently abled—can step boldly into their brilliance."
We talk briefly about "Our Children Can't Wait," with Joseph Bishop here.  
UCLA Ed&IS: What's this book about?
Joseph Bishop: This book makes a strong argument of why the narrow, standards-based conceptions of education policy that have dominated Congress, state houses and school boards have mostly overlooked what matters for student health and development. More importantly, it lays out a plan of action at the local, state and federal level for moving towards more youth and community led policy change that centers on equity and justice in school and outside of school.  
"Our Children Can't Wait" was written based on my experience training elected officials and working with civil rights groups, youth organizers, educators and philanthropy, seeing a need for a book that brought more comprehensive thinking on policy together in one place. 
UCLA Ed&IS: What do you hope it will help people to understand?
Bishop: This is a critical moment for our country to reckon with our relationship with race and racism, defined by harmful patterns of enslavement, discrimination and the largest justice system in the world.  I hope this book helps connects the dots for readers, helping them understand that an entire playbook of prevention and strategic investments exists that will allow us to move away from policies that often replicate inequality in our country. We just haven't had the foresight or courage to think more boldly about what education policy is, who it's for and what it can achieve for our young people and families. 
UCLA ED&IS: What do you hope the book will make happen?  
Bishop: I've been contacted by administrators, educators, policymakers, civil rights organizations and philanthropic groups who want to use "Our Children Can't Wait" as an organizing framework for mobilization and transformation.  I hope the book can act as a catalyst for people across the country to spark new conversations or to find affirmation in the ideas and scholarship packed in each chapter. Just because policies don't prioritize issues or people doesn't mean they don't matter.  Rather, just the opposite is true.