Norma Feshbach: 1926 – 2021
Scholar of empathy in children founded UCLA program that became the Human Development and Psychology division of SEIS.
UCLA Professor Emerita of Education Norma Feshbach died at age 94, on Sept. 3 - just short of her 95th birthday - on Sept. 5, at home in Los Angeles. The scholar of educational psychology centered her research on emotional and gender-related development in children and served the then-UCLA Graduate School of Education as interim dean in the 1990s.
UCLA Professor of Education Sandra Graham is a faculty member in the Human Development and Psychology division, which originated as a program founded by Professor Feshbach at UCLA focused on Developmental Studies in Education.
"Norma was ahead of her time in many ways… when developmental psychologists were just beginning to center their work on children's experiences in school and how those experiences varied across different age groups," says Graham. "Norma also devoted her career to research on empathy in children. Long before our field recognized the importance of social-emotional learning for healthy child development, her research was documenting the social and cognitive advantages of helping children to understand other people's feelings. Norma's passing is a loss to our Department of Education and to the field of developmental psychology."
Norma Deitch Feshbach was born on September 5, 1926 in Brooklyn, New York. She achieved her bachelor's degree in psychology and her master's degree in educational psychology at City College of New York, and her Ph.D. in psychology at the University of Pennsylvania.
Professor Feshbach's extensive list of publications includes her co-authored book, "Big world, Small screen: The role of television in American Society (University of Nebraska Press, 1992); a chapter on, "The construct of empathy and the phenomenon of physical maltreatment of children. "Theory and research on the causes and consequences of child abuse and neglect," (Cambridge University Press, 1989); the article, "Affective processes and academic achievement" (with S. Feshbach) for the journal, Child Development; and "Empathy, empathy training and the regulation of aggression in elementary school children" for the co-edited book, "Aggression in children and youth" (Martinus Nijhoff Publishers, 1984).
Professor Feshbach arrived at UCLA in 1965, and also had an appointment in the Department of Psychology. Her extensive service to the then- UCLA School of Education includes serving as chair of graduate faculty, vice-chair of educational psychology, and program director fo the Center for the Study of Evaluation (now CRESST). In addition, Feshbach was a clinical psychologist and lecturer for the UCLA Neuropsychiatric Institute, and an associate research psychologist for the UCLA Department of Psychology.
Feshbach contributed to national scholarship as well through numerous projects, including a National Science Foundation-funded grant to study fantasy and empathy training; serving as principal investigator of a NSF project on "Increasing Children's Understanding of Television Advertising"; and serving as head of a program in early childhood and developmental studies, funded by a grant from the National Institute of Mental Health. Her professional affiliations included the American Association for the Advancement of Science, the American Board of Professional Psychologists, and the American Educational Research Association. Professor Feshbach was a Fellow of the American Psychological Association.
Albert Aubin ('71, Ed.D.), knew Professor Feshbach not only through the UCLA Department of Education but later, as fellow members of the UCLA Emeriti Association and the UCLA Faculty Club.
"A fun note: Not many faculty members have an IMDb page, but Norma does. I enjoyed her stories about when she worked as a consultant and script editor for "The Secrets of Isis," "Shazam," and "The U.S. of Archie," says Aubin.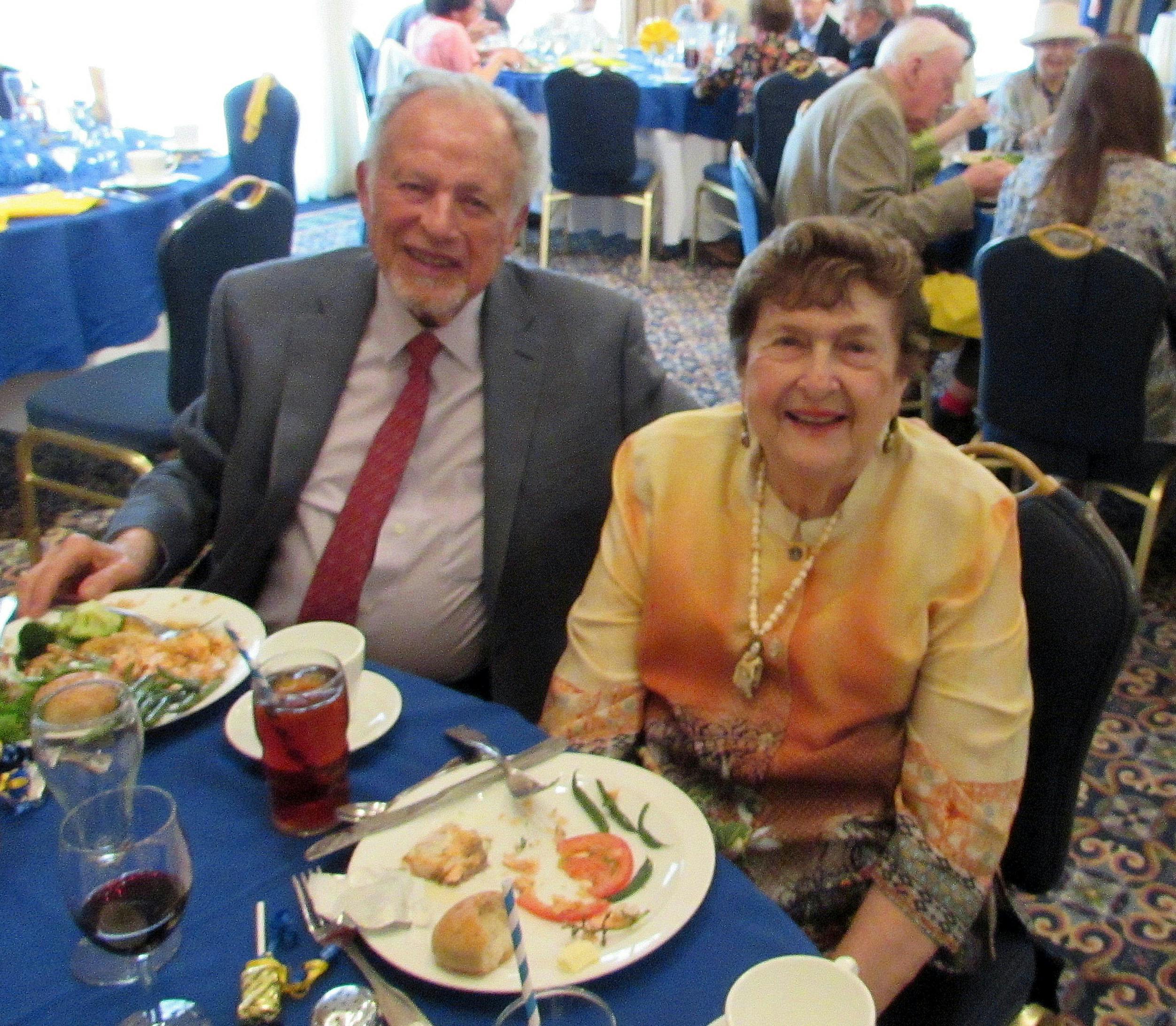 Feshbach's husband, UCLA Professor Emeritus of Psychology Seymour Feshbach, preceeded her in death in November 2020. The couple were active on campus, even after they had both retired from their academic careers, and in 2002, established the Norma and Seymour Feshbach Doctoral Dissertation Fellowship to support students from UCLA's Education and Psychology Departments whose area of doctoral research is positive social behavior and/or reduction of aggression.
"The UCLA Emeriti Association is sad to learn of Norma Feshbach's passing so soon after the loss of past-president Seymour "Sy" Feshbach and wish to convey our condolences to the Feshbach family," says Diane Childs ('79, MLS), retired UCLA librarian and corresponding secretary of the Emeriti Association. "Personally, I miss being able to see Sy and Norma around town, whether it's for a musical at The Broad Stage or walking on San Vicente. How did they get back up that hill?"
Professor Deborah Stipek, now professor emerita at the Stanford Graduate School of Education, was hired as an assistant professor by Norma Feshbach in 1977, when SEIS was the UCLA Graduate School of Education.
"Norma helped pave the way for female scholars following her to be taken seriously in academia -- something she and many women of her era had to work hard for," she says. "The graduate program in early childhood education (which morphed over the years into what is now the Human Development and Psychology Program) that she developed was one of the first of its kind. Norma continues to influence policy and practice in ECE throughout California and beyond through the many students she taught and supported over the years.
"Anyone who knew Norma knew her as a force of nature, refusing to be beaten by several bouts with cancer in addition to overcoming obstacles to forge new pathways in the field of education. Although tough on the exterior, Norma was an incredibly generous and kind person. She will be missed greatly by the many people who had the privilege of being her friend."
In 1973, Patricia Ann Brennan met Professor Feshbach, who at the time was leading the UCLA School of Education's early childhood development program. Brennan served as the program's administrative assistant managing its supporting grant and its training program. Their friendship continued over the years even as Brennan served in other administrative and leadership positions across UCLA.
"In 1973, a lifetime of mentorship by, and friendship with, Norma Feshbach began," says Brennan. "Adoption into the Feshbach clan was characterized by inclusion in holiday and family meals, lovingly watching younger Feshbachs grow to adulthood, and of course, always rooting for the Bruins.  
"Norma helped support and guide me in both personal and UCLA staff career choices and significantly helped many other friends, students, and colleagues in that regard. She was always there to listen, to advise and support with an open and loving heart. I was proud to have known her, her loving life partner Sy, and their extended and other 'adopted' family members."
Feshbach is survived by a son, Andrew Feshbach, six granddaughters and three great-grandchildren. A son, Jonathan Bloom-Feshbach, did not survive his parents, and a daughter, Laura Feshbach, died this past February.
To share remembrances of Norma or Sy Feshbach with the family, please send them to Sally Bloom-Feshbach at sbloomfeshbach@gmail.com. Please direct any contributions in honor of the Feshbachs to the charity of your choosing.
At top: UCLA Professor of Education Emerita Norma Feshbach, approximately mid-1970s. Courtesy of Deborah Stipek and Patricia Ann Brennan 
In text: UCLA Professor of Education Emerita Norma Feshbach and her late husband, Professor of Psychology Emeritus Seymour "Sy" Feshbach, were active members of the UCLA Faculty Club and the UCLA Emeriti Association. Courtesy of Sally Bloom-Feshbach