Keilah Kelso: Outstanding Student in UCLA's Education Minor Program Transformed by Learning
Although Keilah Kelso did not attend the GSE&IS Commencement exercises on June 16, her story is cause for celebration in a number of unique ways. The UCLA psychology major ('18, B.A.) is the mother of two young daughters – she missed the ceremony to celebrate Niah's third birthday. When Kelso was accepted as a transfer student to UCLA in 2016, she was pregnant with her second child and living in Northern California. She returned to Los Angeles and moved into her sister's house with a 14-month-old daughter, without a job or a car, and pregnant with her second child. After Kelso gave birth to her second daughter Natalie in May of 2017, she brought her five-day-old newborn to finals. She worked at a retail job to be able to buy a car, but was hit by a drunk driver with both of her daughters in the vehicle.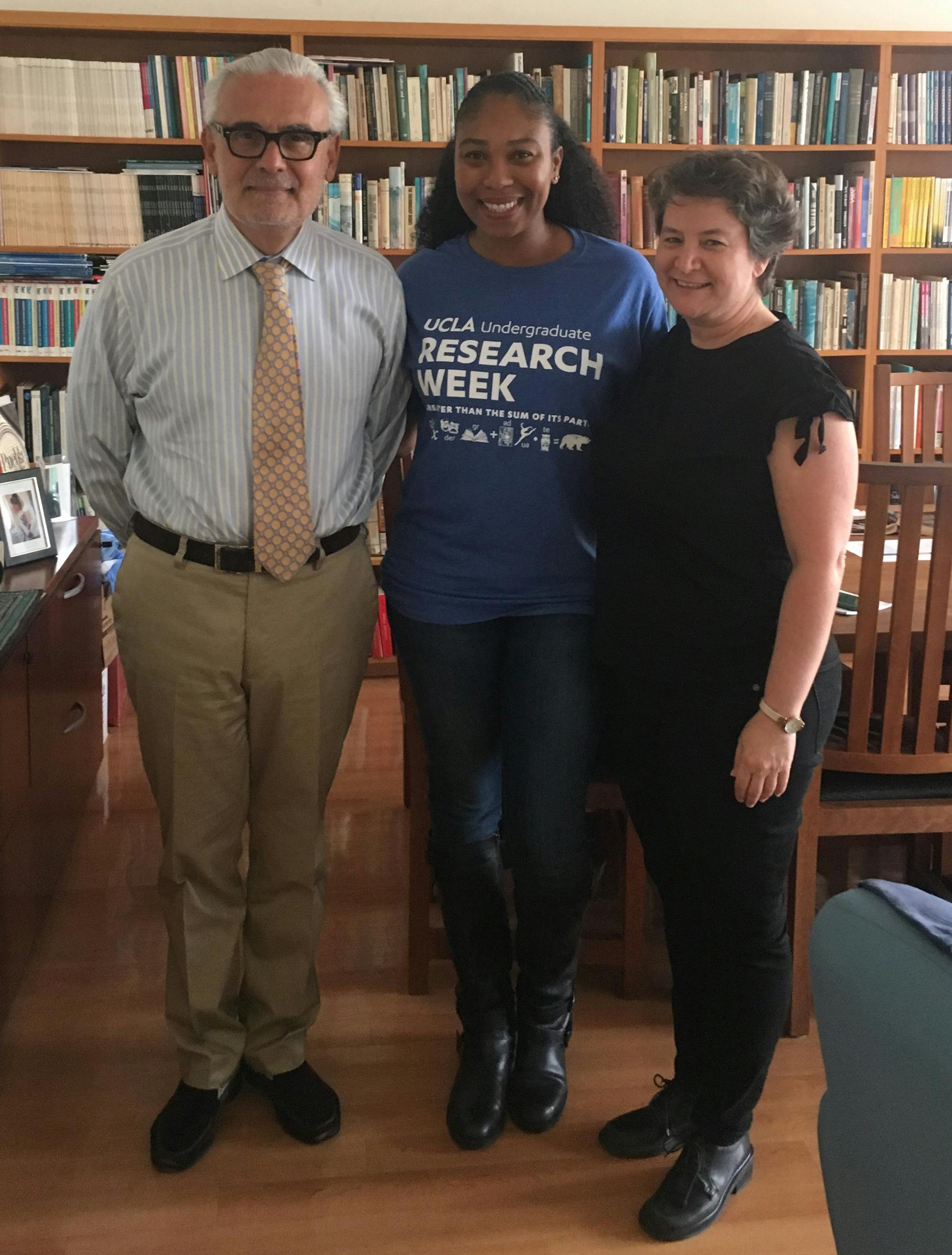 Undaunted by these challenges, Kelso flourished on campus and sought to help her fellow students by serving as a Bruin Advisor in UCLA's Early Academic Outreach Program. On top of taking 23 units this spring to graduate on time, she also participated in the Undergraduate Research Fellows Program and presented her research on the motivational factors contributing to African American women choosing to attend college, and served as chair of the Graduation Subcommittee on the Education Minor Student Advisory Board. This spring, Kelso was selected as the Outstanding Education Minor Student, and presented with the Directors Award from a GSE&IS program that she describes as "like dessert."
"Without the Education Minor, I don't think I would have enjoyed UCLA as much as I did," says Kelso. "The psychology courses were very intriguing, but the [Education] minor courses were … something I looked forward to signing up for each quarter. It was like being a kid who sits in a classroom for five or six hours, and then gets that one art class or P.E. class they look forward to all day."
"The faculty in the Education Minor are amazing," she says. "[They] are so connected to their students. You have discussions where you can really engage with the TAs and the professors on different policies and issues, educational development and the philosophies of education. That makes it that much more impactful for the students on a personal level. Everything is applicable to life, not only for yourself but for the younger generation that are following behind you."
Kelso says that her concerns as a parent about her children's education have been greatly influenced by what she has learned in the Education Minor Program.
"It's flipped my world upside down," she says. "So many policies and programs need to be altered to benefit disadvantaged youth. And there are so many different philosophies about teaching –Montessori, charter schools, private schools, public schools – and the different curriculum and accessibility, depending on where you live and how much you make.
"Everything I thought was best for them, I am now questioning," says Kelso. "Now, I'm really about character-building and making sure they're enjoying their education, making sure they're getting the foundation to really love to learn. No matter what school setting I put them in, if they love learning, then they will flourish."
Kelso's commitment to her daughters' education and success is something she inherited from her own mother India Love, who raised four children on her own while rising from the bottom to becoming the director of production finance at a prominent television production company, without benefit of a college degree. Love also ensured that all of her children went to college; Keilah is the first to attend and graduate from a UC.
"She's always been the type [to say], 'When you put your mind to it, you can do anything. If I did it with four kids by myself, you can do it,'" notes Kelso, who earned her A.A. in psychology from Pasadena City College before applying to UCLA.
Kelso chose UCLA after having toured the campus while in the 5 grade.
"It's always been a dream school of mine," she recalls. "It cultivates this environment for you to use your mind in ways that you wouldn't otherwise use it. I think that's what's going to be the determining factor in changing society. UCLA is really about giving you endless opportunities to be successful."
While a student, Kelso worked to help ensure success for her fellow Bruins and the surrounding community as well, in her role as a Bruin Advisor in the EAOP and as a peer mentor in the Bruin Resource Center's Students with Dependents Program.  She notes that two percent of UCLA students have dependents, and that out of that number, 39% are undergrads.
"I've had my struggles, but everyone has their struggles," Kelso says. "I just use them as motivations to continue to persevere in spite of it all. I understand the struggles of having to manage work and then school, and being a parent or spouse, a sibling. I opened up and I found that the Students with Dependents program allows this sense of community, where you don't feel alone."
Off-campus, Kelso credits her mother, sisters, and brother with providing her with "the biggest support system in terms of keeping me constantly motivated and telling me how proud they are, and helping me with childcare and places to live. When I first started [at UCLA], my sister-in-law gave me her computer. Hands down, I wouldn't have been able to do this without their support."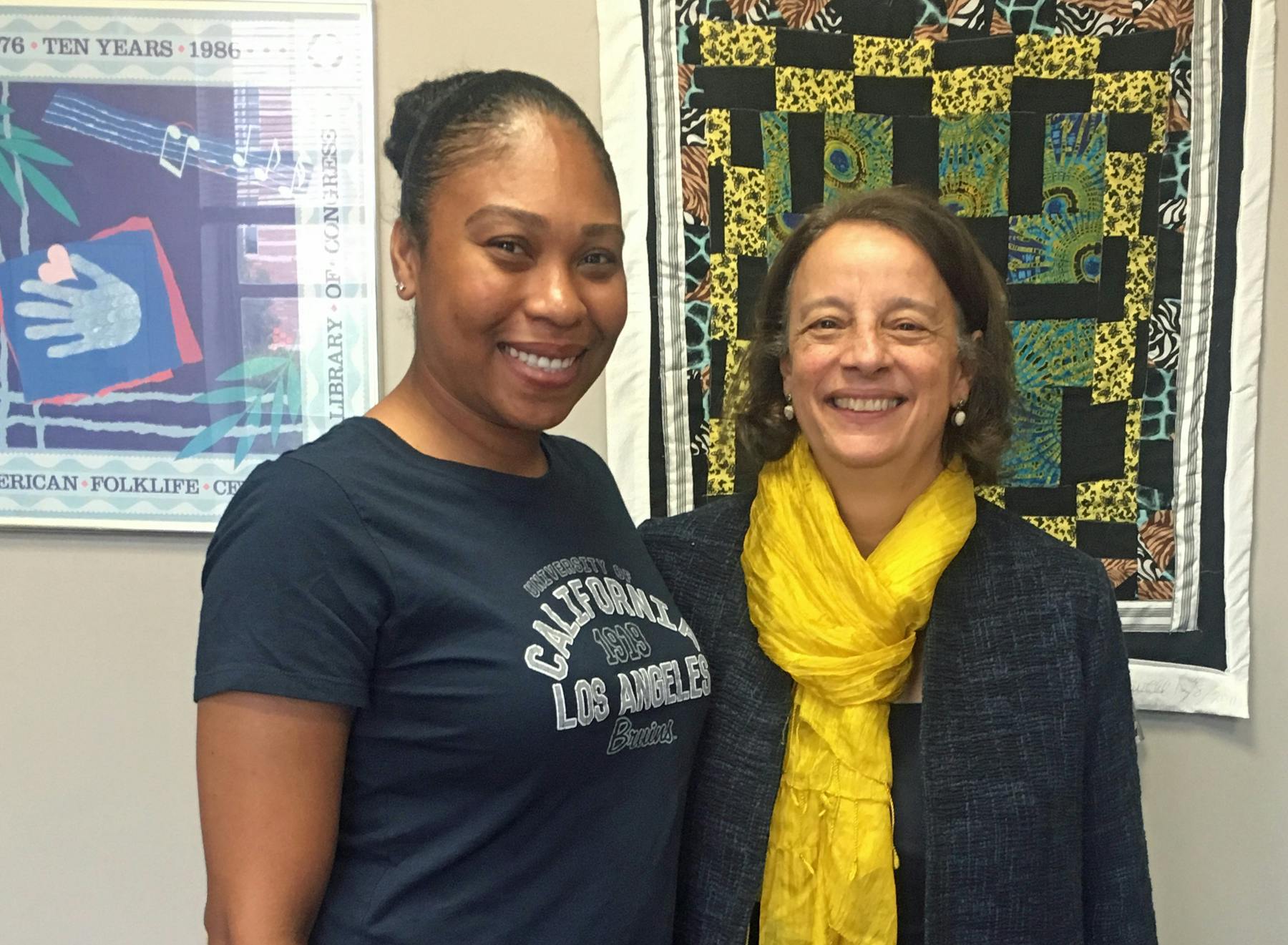 Kelso's mentors and friends at UCLA include Jean Libby, who directs the Students with Dependents and Collegiate Recovery programs; Youlonda Copeland-Morgan, Vice Provost of Enrollment Management; and Brittany Lewis-Porchia, Kelso's EAOP supervisor. Kelso also has high praise for the faculty and staff in the UCLA Education Minor Program and at GSE&IS, including her professors Rashmita Mistry, Arif Amlani, and Edith Omwami. She also expressed her great appreciation for Professors Robert Cooper, director of the Education Minor Program;  and Tyrone Howard, inaugural director of the new UCLA Pritzker Center for Strengthening Children and Families; Patricia Turner, Dean and Vice Provost for Undergraduate Education; and her research mentor Professor Sandra Graham, Chair of the UCLA Academic Senate.
"They may not realize that after just talking to them during office hours, that they've given me a spark of hope or inspiration by something they might say so leisurely," says Kelso. "That is what I'm really thankful for. I wish I could show my gratitude and tell each individual how much it means to have someone who cares for their students, and who cares for [diverse] populations and not just one subgroup of our society. I hope that GSE&IS knows the value of the people they have in place to teach us.  It's made the biggest difference in my performance here and my motivation and perseverance."
Kelso looks forward to earning her graduate degree and continuing to do her research pertaining to motivational factors contributing to women choosing to attend college, including private vs. public school choice and outcomes, and equity vs. equality in accessibility to quality education.  She also wants to "inspire the youth to always put their best foot forward, despite their circumstances. Their 'now' does not dictate their future. The things that are hindrances or hurdles now will build their character. I'd like to be able to motivate them to be the best they can be, so they can help others be better as well."