Jack Share (1927-2015): Korean War Army Psychologist Aided Fellow Veterans Through The Soldiers Project
Jack Share, an acting assistant professor in UCLA's Special Education Division (1969-1970) and from 1971-1975, an assistant professor in what was then the Graduate School of Education at UCLA, died on Nov. 4 at Kaiser Hospital in Woodland Hills. He was 87 years old. A veteran of the Korean War, Share served as an Army Psychologist and was assigned to the 28th General Hospital in La Rochelle, France.
Patricia Gándara, UCLA research professor and co-director of the Civil Rights Project/Proyecto Derechos Civiles at UCLA Ed & IS, was mentored by Share while earning her doctorate in educational psychology at UCLA.
"Jack was very instrumental in my education and thus, my life," she says. "When I applied to the Ph.D. program at UCLA, he saw the potential in me that perhaps some others did not and he advocated for admitting me to the program.
"During the time that he was at UCLA, Jack was a constant source of encouragement and in those days the faculty member many of us felt closest to.  I've always hoped that Jack felt he had been vindicated for the faith he had in me."
Robert Rueda, associate dean of Research and Faculty Affairs at USC's Rossier School of Education, is another former UCLA doctoral student who benefitted from Share's mentorship.
"Jack literally changed my life when I met him one day while he was giving a talk at a special education school my brother attended [and he asked] 'Have you ever thought of getting a Ph.D.?'" says Rueda. "He appeared in my life right at the moment when I needed guidance, and continued to advise me throughout my career. His mentoring was and continues to be a strong presence. I know that Jack affected many others the same way; he will be sorely missed."
Jack Share was born in 1927 in Chicago, and, as he often said, "I was born at a very young age and never got over it." He spent most of his childhood growing up in Boyle Heights, a place he later described to his students in New Zealand as the "mecca of civilization." He was the eldest of four children, Evelyn, Abie, and Joe. His parents, Lena and David Share, were Lithuanian and Polish Jewish immigrants who arrived at Ellis Island in the early 1900s, met and married in Chicago.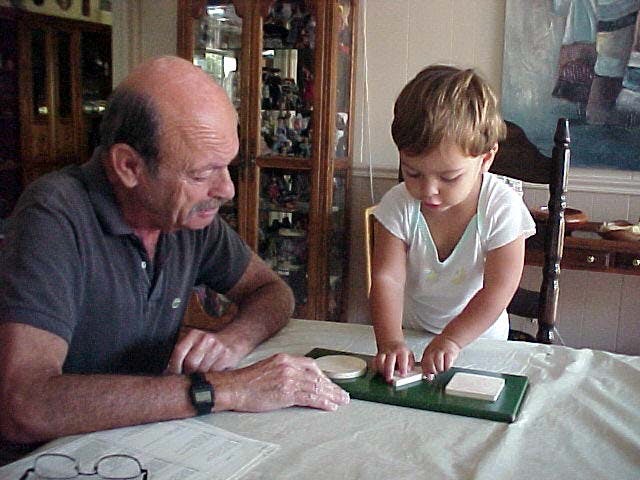 Growing up in Boyle Heights, Share had many interests, including boxing with a Catholic Youth organization, building cars with his buddies that they raced in the desert, working with an Armenian garbage truck crew, and building model airplanes for the Civil Air Patrol during World War II. While attending Roosevelt High School, Share worked the night shift at the U.S. Tire and Rubber Company making tires and became the union steward for his crew.
After graduating from Roosevelt High School, Share took night classes at East Los Angeles Community College and fell madly in love with Armony Pupkowiez, his wife of 63 years. They married as juniors in college in 1952 and two years later Share was drafted into the army during the Korean War. He soon found himself living with his young wife in La Rochelle, France, and working at his post at the 28 General Hospital. He was stationed there from May 1955 to June 1956, treating combat and support troops from all branches of the U.S. Armed Forces. The Shares' first child, Debbie was born in La Rochelle.
The Shares and their daughter returned to the United States in August of 1956, driving across the country back to Boyle Heights in a Volkswagen Beetle. With the help of the GI Bill, Jack completed his Master's degree in Counseling and Guidance at California State University, Los Angeles. During this time, he met Dr. Richard Koch, who became his life-long mentor and friend. Koch encouraged Share to join him in his studies and research on Down Syndrome and obtain a Ph.D.
While working with the Pasadena School District, as a school psychologist, Share continued his education, taking night classes at USC with the goal of earning his doctorate in psychology. The Shares bought their first home in Monterey Park in 1958, where their second daughter, Leslie was born. Three years later, their son Jeff was born.
In 1965, when an opportunity arose to teach as a Senior Lecturer in Education & Psychology at Victoria University in Wellington, Share moved his family to New Zealand and began his doctorial research. They traveled the country as he investigated the prevailing belief that Down Syndrome was not found in Maori children. Share met and assessed approximately 85 percent of all children in New Zealand, between birth and five years of age, who had Down Syndrome, utilizing the Gesell Developmental Scales. His findings became a baseline for others to measure the effectiveness of their intervention programs for children with Down Syndrome. He also disproved the assumption that Down Syndrome did not exist among the Maoris, finding that although the non-Maori population institutionalized their children with Down Syndrome, the Maoris kept their children at home. Since reports had been based on hospital records, they were not accurate.
After three years in New Zealand, Share brought his family back to the U.S. and in 1971, joined the faculty at UCLA in what was then the UCLA Graduate School of Education, focusing in Special Education. He taught as an Assistant Professor for six years before deciding to leave academia for private practice.
After leaving UCLA, Share opened a private practice as a clinical and educational psychologist. Since 2008 and until the time of his death, the majority of his time was spent doing pro-bono work with The Soldiers Project, a nonprofit that works with licensed therapists in private practice who serve active military as well as veterans of Iraq and Afghanistan. Share employed several forms of therapy for the veterans, including diagnostic evaluations, psychotherapy, yoga, and equine therapy. In addition, Share also served as Vice-Chairman of VeteransConnect, a nonprofit organization for veterans helping veterans.
Over the course of his professional career, Share was involved in numerous national organizations. He was president of the executive board of directors of Multicultural IMPACT Inc.; on the board of directors of the National Down Syndrome Congress; and on the board of directors of the Western Law Center for the Handicapped. In addition, Share served as a member of the California State Advisory Committee of the U.S. Commission on Civil Rights (1972-1985), and the community liaison on the Bioethics Committee at Kaiser Permanente Hospital in Woodland Hills (1986-2015).
Share is survived by his wife Armony, his three children Debbie, Leslie (David), and Jeff (Laura); and his five grandchildren Lindsay, Amanda (Noah), Zach, Nicole, and Diego. His son Jeff Share, is a faculty advisor and lecturer in UCLA's Teacher Education Program (TEP).
A memorial for Jack Share was held last Sunday. In lieu of flowers, the family requests that donations in honor of Jack Share be made to The Soldier's Project or VeteransConnect.
Photo by Jeff Share