Emerging Brain Research Can Provide Opportunity and Access in K-12 Education
Connie Kasari wants equality in education – to a point.
"Equality means we give everybody the same thing," said Kasari, a researcher and professor of Psychological Studies in Education at UCLA. "But it only works if everyone starts at the exact same space, whereas, equity is fairness. It's access to the same opportunities but giving people what they need to end up at the same place."
Kasari kicked off the discussion on "The Education-Brain Research Connection," on Oct. 26 at the Luskin Conference Center at UCLA. The conference was presented by UCLA's Graduate School of Education & Information Studies, Chapman University, and the UCSF Dyslexia Center.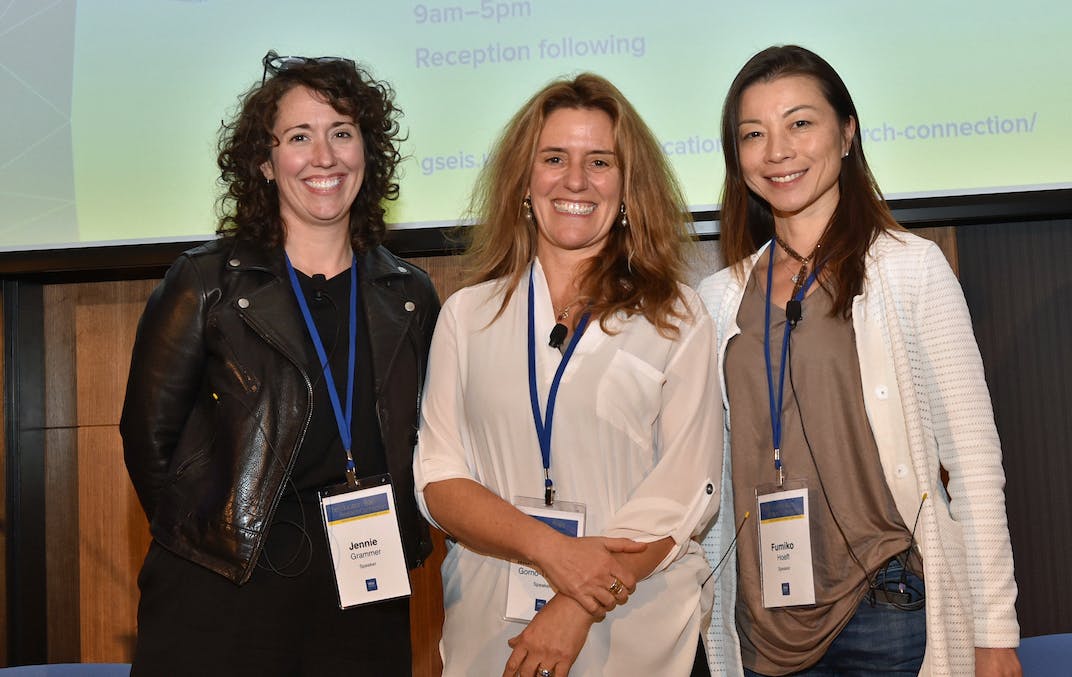 A variety of experts and stakeholders from clinical practice, public policy, philanthropy, and technology explored a wide range of topics, including the possibilities of creating equitable learning environments for all types of learners, the nexus of neuroscience and education, and the science of reading. Speakers included Professor Jennie Grammer, UCLA Education; Dr. Fumiko Hoeft, UCSF School of Medicine; Michael Spagna, provost, CSU Dominguez Hills and former dean of the Michael D. Eisner College of Education at CSU Northridge; Sarah Herrlinger, director of Global Accessibility Policy & Initiatives, Apple Inc.; Matthew Hanson, Clinical Professor of Entrepreneurship, Chapman University; and Rachel Hurd, regional leader manager, Decoding Dyslexia CA.
Maryanne Wolf, who is the John DiBiaggio Professor of Citizenship and Public Service, delivered a keynote on "The Brain and Literacy" and moderated a panel, "On the Ground: What's Happening Now in Classrooms and Where Do We Want to Go from Here," with Diana Inouye, LAUSD Division of Special Education and leader for Decoding Dyslexia CA; Elena Perez, teacher, UCLA Lab School; Douglas E. Phelps, head of school, Park Century; and Dan Bucatinsky, parent and advocate.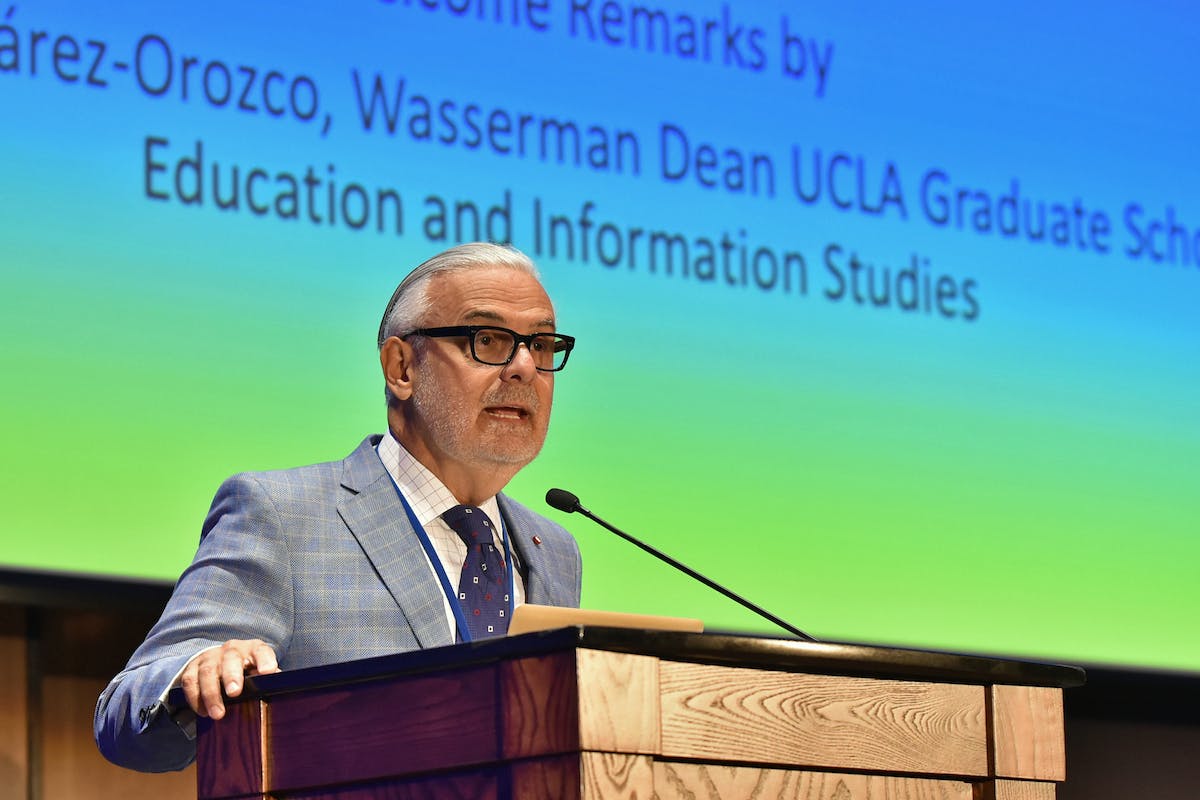 Professor Grammer moderated a discussion on "The Vision for the Next Decade in Brain Science and Education – UCSF Dyslexia Center and their Ten-Year Vision for Informing Practice" with Dr. Hoeft and Dr. Maria Luisa Gorno-Tempini, Deputy Director of Neurology, Language Laboratory, Memory and Aging Center at UCSF. The conference concluded with a conversation between Professor Kasari and Wasserman Dean Marcelo Suárez-Orozco, UCLA GSE&IS on school-based approaches at UCLA Lab School and next steps toward better supports for complex learners.
Dean Suárez-Orozco stated that the goal of the daylong conference was to bring together researchers, teachers, parents, administrators, and other stakeholders "with a common purpose: to explore how disparate sectors can work together to create new approaches to the education-brain connection across California, across the country, across the world. What I am envisioning is nothing more and nothing less than the California collaborative on 21 Century minds, brains, and education." He thanked Chip Robertson, a member of the Board of Directors of the University of California, Hastings College of the Law, for his generosity in making the event possible.
Suárez-Orozco said that one in five children in American classrooms have some kind of learning difference, and delineated the urgency of addressing their needs. He announced plans to create a new UCLA Center for Complex Learners to bring state and worldwide thought leaders to the table to discuss knowledge about complex learners and create equitable solutions for educating them.
"Too many schools are giving up on these children, who then give up on themselves," he said. "And too many of these youths are on the pipeline to unemployment [and] to prison. We at UCLA believe that this is one of the defining civil rights issues of our generation – the social, economic, and ethical concerns that flow from wasted human potential are grave, and we as a society simply cannot leave children behind.
"Young people are full of talent, creativity, spark, and potential. Their diverse learning styles and their very abilities and talents are to be cultivated in our K-12 classrooms and beyond. As an innovation capital for the United States, we [in California] need to be at the forefront … of new approaches in educating and preparing practitioners to work with all learners. Only when all children flourish… to their full human potential, to their full dignity and ability, can we begin to talk again seriously about our most cherished diplomatic promise."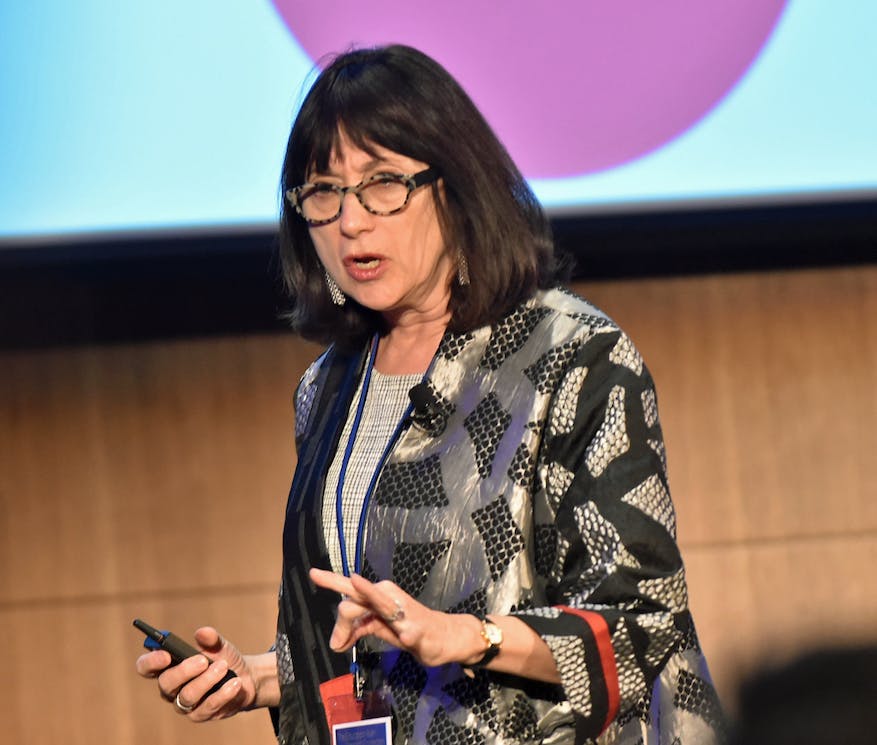 Professor Grammer, who conducts research at UCLA Lab School on the impact of the elementary school context on developmental changes in children's cognition and skills, spoke of the disconnect that occurs between researchers in education, who feel that the type of data gathered does not inform practice and researchers in neuroscience, who think that their work is not translated accurately. She pointed out the potential of solutions to be discovered when these fields work in tandem.
"There are points of opportunity and promise," Grammer said. "Our methodological differences can actually give us some traction on the important questions that we care about. We can look at conflicts and processes and we can also measure individual differences. It's really important for us to understand how individual children are integrated and interacting with different kids in classroom environments. We may not be able to ask a four-year-old child what's distracting them but we can observe that through neuroscientific measures."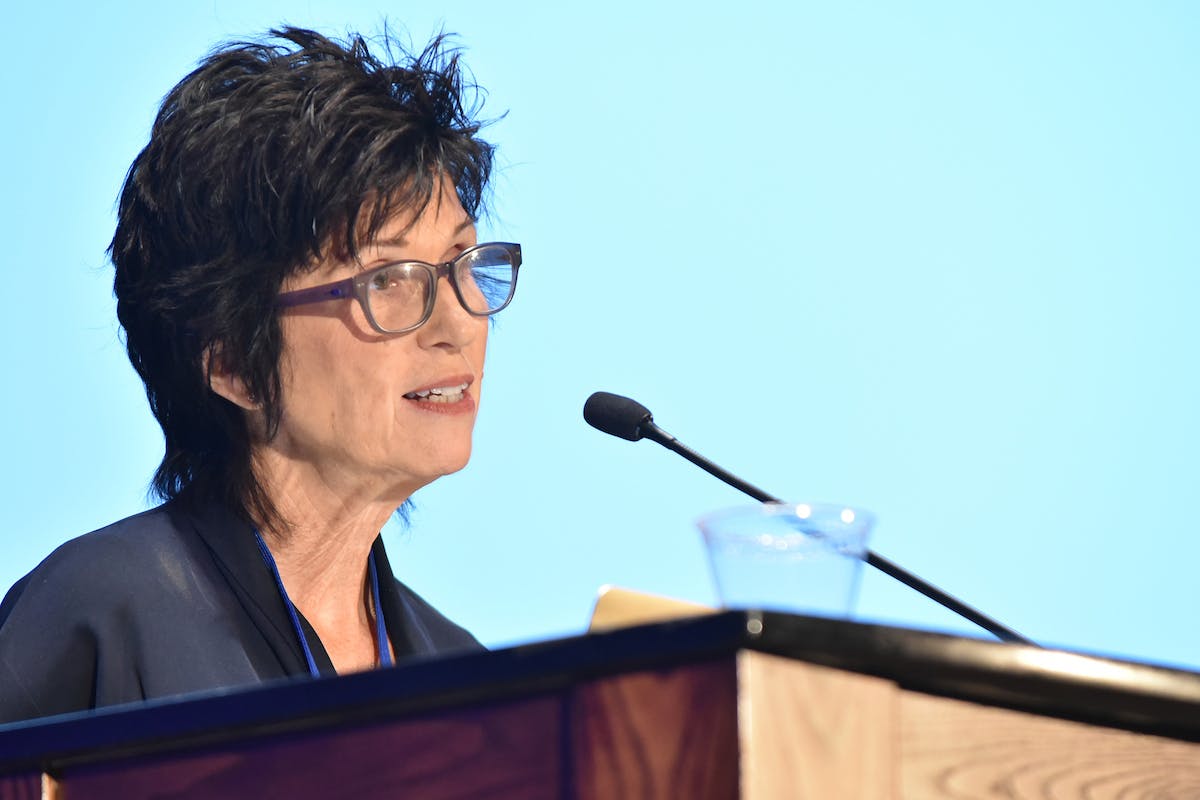 Professor Wolf, who directs the Center for Reading and Language Research at Tufts University, spoke about the importance of understanding how children read – or cannot read. The author of "Dyslexia, Fluency, and the Brain," and "Proust and the Squid: The Story and Science of the Reading Brain," stated that children are often diagnosed with dyslexia well into the 3 grade, and that earlier interventions can diminish the effects of dyslexia before it stigmatizes students.
"The sooner you intervene, the better it is for the children, not only in terms of the cognitive and linguistic parts of reading but also in terms of the emotional, social detritus… of being a failure," said Wolf. "There is no reason why we should have that in our classrooms anymore. It's not about what they don't learn – it's about how we learn how to teach."
Professor Kasari, who is a founding member of the UCLA Center for Autism Research and Treatment, said that making certain that students' unique learning needs are met is a form of social justice.
"In every classroom, there's a variety of individuals who have many different skills, needs, and interests," she said. "Learners differ in the ways that they perceive information that is presented to them [and] all of these might require different ways of approaching content in the classroom."
Kasari said that the goal of the Americans with Disabilities Act, which aimed "to include children in the least restrictive environment" is often misunderstood. She noted that acceptance of complex learners in the classroom or an overly solicitous approach from well-meaning teachers and aides is not enough.
"An example of this is where you have a one-on-one assistant with a child, perched over their shoulder during the day," she says. "At times, that could be the most restrictive placement in our school system. Those are children that sometimes are a class within a class – they're completely isolated from the rest of the class."
Kasari stated that the main criticism of mainstreaming complex learners into the regular classroom is that it interferes with the progress of the "typical" students.
"The proponents of inclusion really value all students being included, regardless of ability," she said. "That includes other kinds of characteristics like race, gender, and culture –– but we sometimes forget about different abilities. Questions of fairness and allocating scarce resources to provide for the few is a big concern. Typically in classrooms, you have 12 percent of children with a known disability. But there are 30 percent-plus who are complex learners – children who just need something a little different."
Kasari underscored the fact that many people possess the qualities of complex learners, including sensory disabilities like blindness or deafness, learning disabilities like dyslexia, and differences in language or culture.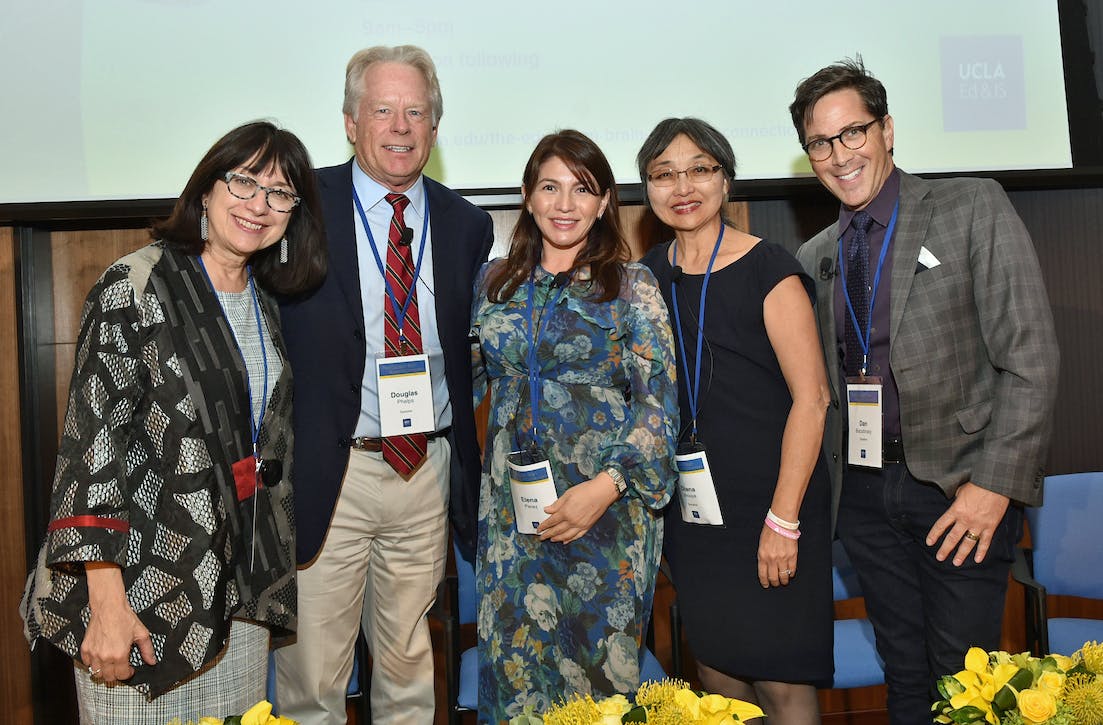 "Neuroscience reveals that these differences are as varied and unique as our DNA or our fingerprints," she said. "Others may just simply grasp information quicker or more efficiently through visual or auditory means rather than printed text. Learning occurs when multiple representations are used because it allows students to make connections within as well as between concepts."
Kasari said that the inclusion of complex learners also yields benefits for "typical" students.
"If you didn't experience many complex learners in your class, that means you didn't get the benefits of that kind of diversity," she noted. "And as a result, you may feel very unsure when you meet someone who's different from you. You may not know how to engage, or whether you should engage with them.
"Inclusion is a celebration of diversity put into action. Our world is becoming increasingly diverse, so how we handle this diversity really comes from our attitudes about differences and our experiences with others who may be different from ourselves."
For more information on "The Education-Brain Research Connection: A Leadership Conversation About Harnessing Emerging Brain Research to Shape New Systems in K-12 Education," click here.
All photos by Todd Cheney, UCLA