UCLA ED & IS Leads the Way at 2022 AERA Conference; Faculty, Students and Staff Take Part in More Than 150 Research Sessions
Congratulations from Wasserman Dean Christina Christie and Ed&IS to UCLA alumna and AERA President Na'ilah Suad Nasir and the AERA team on an inspiring conference.
The annual meeting of the American Educational Research Association (AERA) took place April 21-26, in San Diego, with UCLA alumna Na'ilah Suad Nasir serving as AERA President for 2021-22. More than 150 presentations were made by UCLA faculty, students, and alumni who are in key research positions at a variety of institutions nationwide. And the UCLA AERA reception was a big hit, drawing more than 300 members of the academic community in celebration at the first in-person gathering of AERA since 2019.
AERA Presidential Sessions included Professor of Education Kim Gomez as a discussant for a panel on "Reimagining Methodological Approaches for Disrupting Anti-Blackness in STEM Education";  Ung-Sang Lee, UCLA postdoctoral researcher, and Marcus Van, a teacher at Mann UCLA Community School, sharing their perspectives on "Research-Practice Partnerships for Educational Transformation"; CRESST Director Li Cai and UCLA Vice Provost of Enrollment Management Youlanda Copeland-Morgan, in a session on "What Happened to Diversity and Equity When Admissions Tests Became Optional?"; and Associate Dean for Equity and Inclusion Cecilia Rios-Aguilar, participating in a conversation on "Strengthening California Community Colleges: Research and Leadership Frontiers at a Time of Recovery."  
This year's conference theme, "Cultivating Equitable Education Systems for the 21st Century," was also explored in a variety of sessions featuring research from across UCLA Education, reflecting the school's focus on issues of race, equity, access, quality and the implications for K-12 and higher education.
"It was wonderful to take part in person in this celebration of ideas and research that are so important to the effort to strengthen education and opportunity for all students," said Christina Christie, Wasserman Dean of the UCLA School of Education and Information Studies. "Our work is intently focused on furthering equity, justice and learning and AERA 2022 was a great opportunity for our students, staff and faculty to share their ideas and research and learn from the so many others engaged in this important work. Congratulations to the outstanding AERA leadership team for bringing us all together."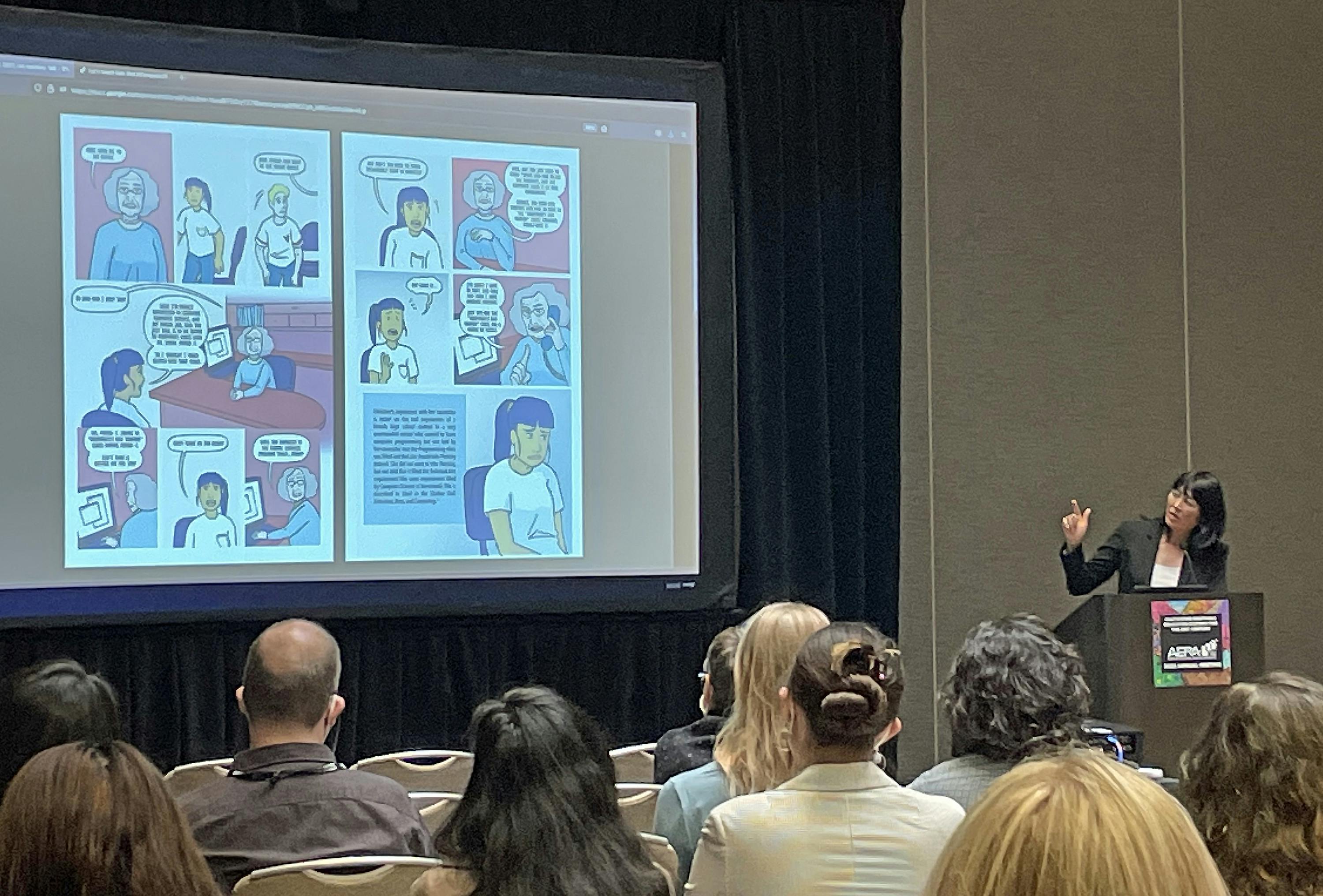 Key presentations were given by Tyrone Howard, AERA President-Elect for 2022-23, who led the opening plenary session on April 21; and Jean Ryoo, research director at UCLA Center X, who delivered the Jan Hawkins Lecture, in recognition of her 2021 AERA Jan Hawkins Early Career Award, sharing the process of her new graphic novel on equity in computer science education, "Power On!"
Associate Professor Eddie R. Cole honored as the recipient of the AERA Division J Outstanding Publication Award, for his book, "The Campus Color Line: College Presidents and the Struggle for Black Freedom," and Associate Professor José Felipe Martínez was recognized with the Palmer O. Johnson Memorial Award for his article examining the use of the Educative Teacher Performance Assessment (edTPA), that is mandated by educator preparation programs in dozens of states across the nation as part of initial certification for preservice teachers. In addition, Professor Daniel Solórzano, who has recently been elected to the AERA Council, discussed his work on racial microaggressions and using critical race theory to respond to everyday racism in a variety of sessions that also featured the work of his current and former students, many of whom are in faculty positions across the nation.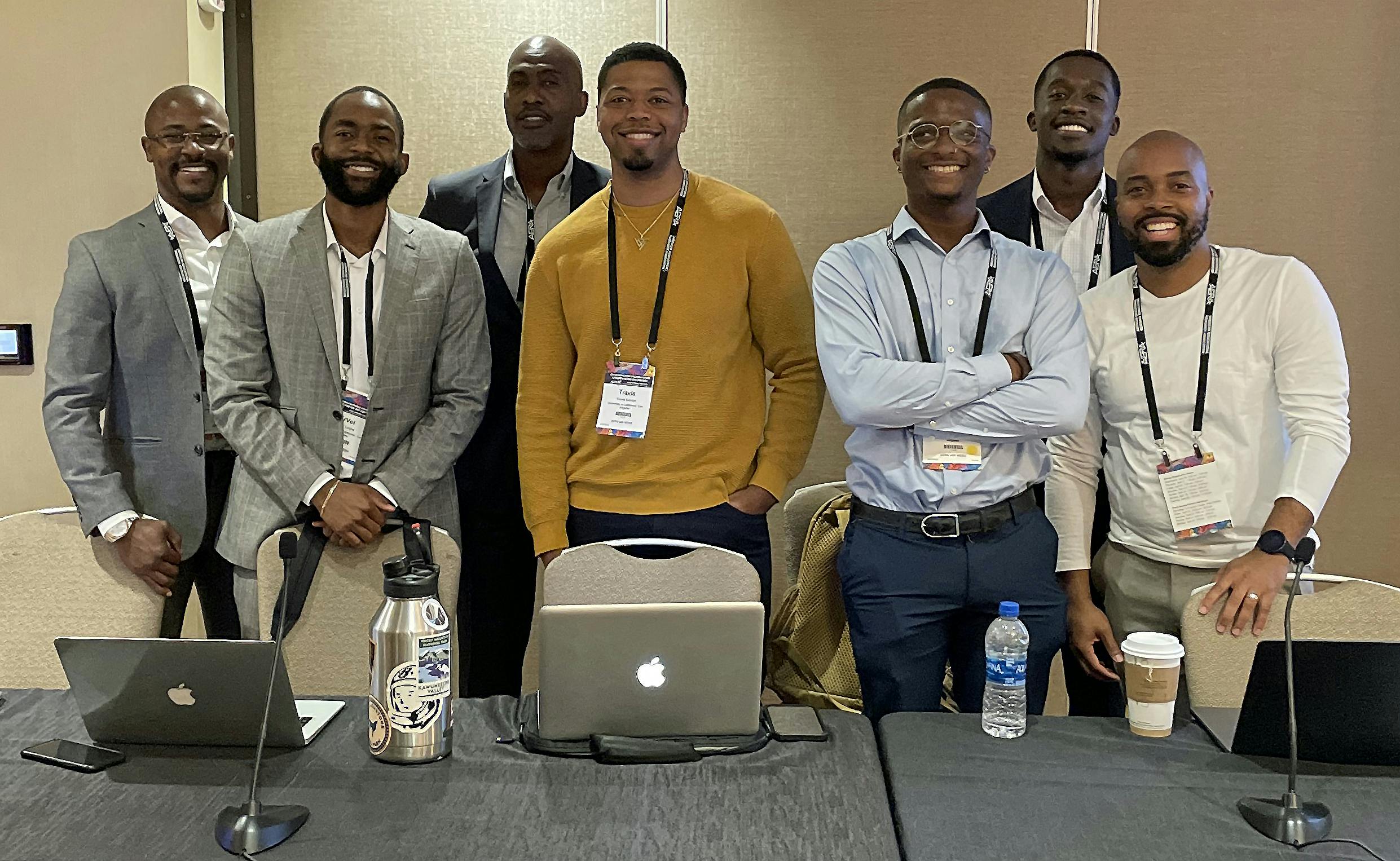 Also joining in the conference discussion, Joseph Bishop, director of the Center for the Transformation of Schools, led a great session on, " Rethinking Policies for Justice & Equitable Education Systems; CRESST Researchers Jia Wang and Deborah LaTorre shared preliminary findings of their research on the impact of the COVID-19 pandemic on students and teachers in 23 magnet schools in Los Angeles; and Assistant Professor Lorena Guillen and Associate Professor Lucrecia Santibañez discussed their work examining ethnic studies.
In addition, UCLA Education graduate students presented on a wide variety of topics, including doctoral researchers Earl J. Edwards, Jaleel Rashaad Howard, Tr'Vel Lyons, and Demontea Thompson, with their findings on "Examining the Bright Spots: Successful Strategies for Promoting Black Student Success in K–12 Schools." Magali Campos, Lorena Camargo Gonzalez, Cindy Raquel Escobedo, Yadira Valencia, and Brenda Lopez spoke on "Reclaiming Voice: Engaging Transformative Methodologies to Honor Women of Color Experiences"; and doctoral students Mary Louise-Leger and Olivia Obeso joined Professor Louis Gomez for their presentation on "Centering Equity and Practice Considerations in Improvement Scholarship."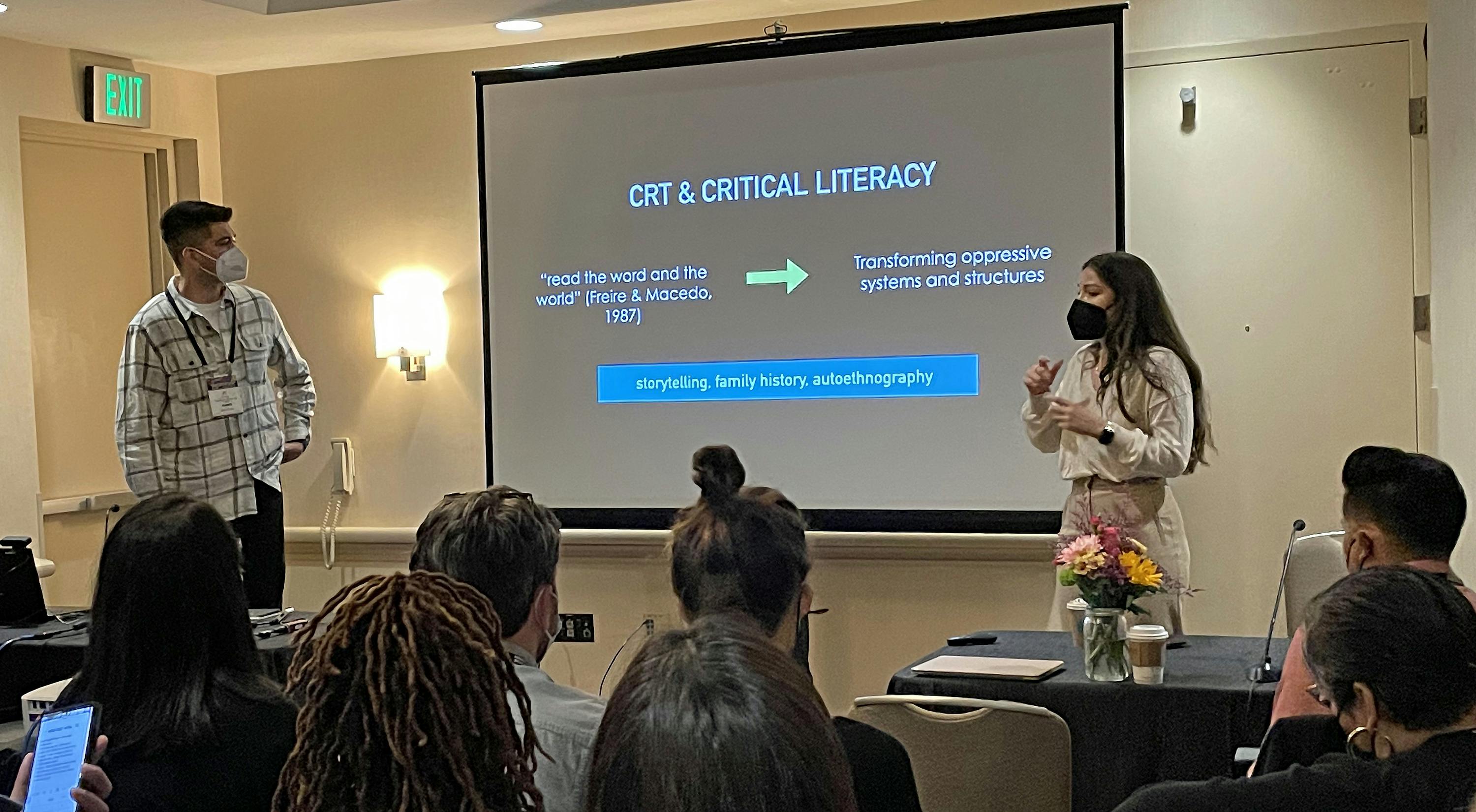 Among others also joining in, doctoral student Ritiki Rastogi presented a poster session exploring the experiences of Asian American first-generation college students as they navigate higher education; Lizzet Rojas shared her research on attrition risk among college students on academic probation; and graduate student JC Lugo teamed with Ed&IS alumna Sharim Hannegan-Martinez, now an assistant professor at the University of Kentucky, to share their research on, "Embodiment As a Practice of Literacy: Advancing CRT's Tenet of Experiential Knowledge," in a session exploring the advancement of the tools of critical race theory to further educational research.     
For more presentations by the UCLA Department of Education at AERA, visit this link.
Above: UCLA alumna Na'ilah Suad Nasir (second from right) is congratulated by her fellow Bruin colleagues, at a reception hosted by the UCLA Department of Education and CRESST. (L-R) Li Cai, director, CRESST; Megan Franke, professor and chair of the UCLA Department of Education; Tyrone Howard, professor of education and 2022-23 AERA President-Elect; Suad Nasir; and Wasserman Dean Christina Christie, UCLA School of Education and Information Studies. Photo by John McDonald
Jean Ryoo, director of research of the Computer Science Equity Project at UCLA's Center X, delivered the Jan Hawkins Lecture, in recognition of her 2021 Jan Hawkins Early Career Award. Photo by Joanie Harmon
Graduate and doctoral students guided by Professor Tyrone Howard, director of the UCLA Center for the Transformation of Schools, presented their findings on "Examining the Bright Spots: Successful Strategies for Promoting Black Student Success in K–12 Schools." (L-R: Demontea Thompson, Tr'Vel Lyons, Travis Dumas, Gene McAdoo, Jaleel Rashaad Howard, and Earl J. Edwards. Photo by Joanie Harmon
JC Lugo, a doctoral student in Urban Schooling and adjunct faculty at CSU Dominguez Hills, and UCLA alumna Sharim Hannegan-Martinez ('20, Ph.D., Education), presented their their research on engaging critical race theory in education, and how experiential knowledge can be used in classrooms to analyze racism. Hannegan-Martinez is currently an assistant professor at the College of Education at the University of Kentucky. Photo by Joanie Harmon