Thuy Vo Dang Featured on Larry Mantle's "Air Talk"
UCLA assistant professor of information studies takes part in OC Arts Summit live event.
Thuy Vo Dang, assistant professor in the UCLA Department of Information Studies, took part in the Summit of the Arts in Orange County, an "AirTalk Live" event hosted by KPCC's Larry Mantle on October 26, which was broadcast on air on Nov. 1. 
The discussion, which heralded the reopening of the Orange County Museum of Art, showcased the local arts scene and the convergence of Orange County's diverse cultures that influence it.
Vo Dang, who serves on the boards of Arts Orange County and the Vietnamese American Arts and Letters Association (VAALA), spoke about the impact on the arts of the Vietnamese population in Orange County, the largest in the world outside of Vietnam. 
Professor Vo Dang noted VAALA's relationships with Orange County high schools, CSU Fullerton, and UC Irvine, which serve to train young artists as well as to increase VAALA's capacity for bringing Vietnamese history and culture to local institutions. 
"VAALA is a very small organization with very big ambitions… [with] the desire not only to serve the Vietnamese community but a broader public to increase understanding about immigrants, refugees, those who have been displaced in particular," she said.
Vo Dang noted the success of VAALA's recent Viet Film Fest, which showcases Vietnamese stories from around the world.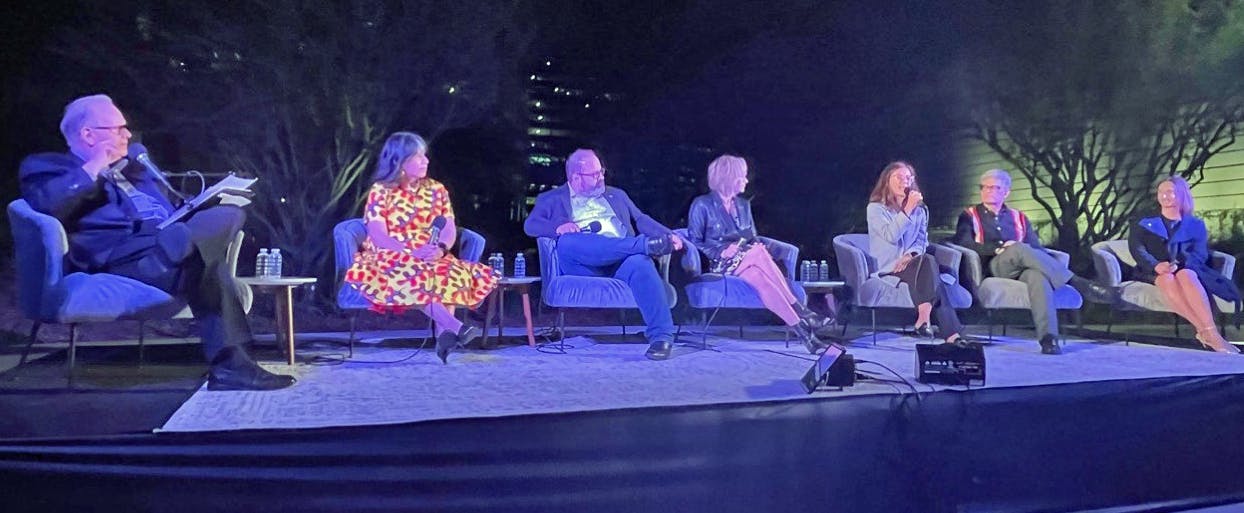 UCLA Assistant Professor of Information Studies Thuy Vo Dang (third from right) took part in a panel discussion of the diverse populations that contribute to the Orange County arts scene. Courtesy of Thuy Vo Dang
"We had the largest attendance of high school students that we've ever had in the nearly 20 years that we've been doing this film festival," said Professor Vo Dang. "Nearly 300 students from local high schools came out to view films that spoke to their lived experiences.
"I think this is the power of the arts for many of us who come from communities who are marginalized or have felt invisible in mainstream institutions, is that we see the need for narratives [and] representation like this, because it fosters a sense of belonging."
Before arriving at UCLA, Vo Dang served as curator for the UCI Libraries Southeast Asian Archive and research librarian for UCI's Asian American Studies. With research and teaching expertise in oral history, Southeast Asian diaspora, community archives, and cultural memory, she brings an interdisciplinary approach to co-creating digital humanities and archival documentation projects with educators and community-based organizations.
Professor Vo Dang holds a Ph.D. in Ethnic Studies from the University of California, San Diego and a B.A. in English and Asian American Studies from Scripps College. She is the co-author of "A People's Guide to Orange County," published by the University of California Press.
To listen to the podcast of Professor Vo Dang at the Summit of the Arts in Orange County, visit the KPCC website.