First Senior Class Graduates from Mann UCLA Community School
Mann UCLA Community School held its commencement on June 9, celebrating its first class of high school seniors.
Mann UCLA Community School held its commencement on June 9, celebrating its first class of high school seniors. The 6-12 school in South Los Angeles honored the Class of 2021, with all 38 graduating seniors planning to attend college this fall. Ashley Oliva Funes and Xavier Alejo achieved class valedictorian status, both with a 4.0 GPA.
Christine Shen, director of the UCLA Community Schools Initiatives, says that establishing the Keck College Center on the UCLA Mann campus has been instrumental in propelling its students toward graduation and higher education.
"Mann UCLA is resourced differently than our other [community] school, and so I've been able to fill the space of counseling, supporting this idea of getting mentors because that's what our kids needed," Shen notes. "There's a lot of learning involved and I feel really grateful that I had that opportunity because I really got to know what the landscape of college counseling is and what are the ways that our kids need even deeper support."
The UCLA Department of Education began its connection with Horace Mann Middle School in 2017, through a partnership between the University and the Los Angeles Unified School District. That fall, the school established its first 9th grade class.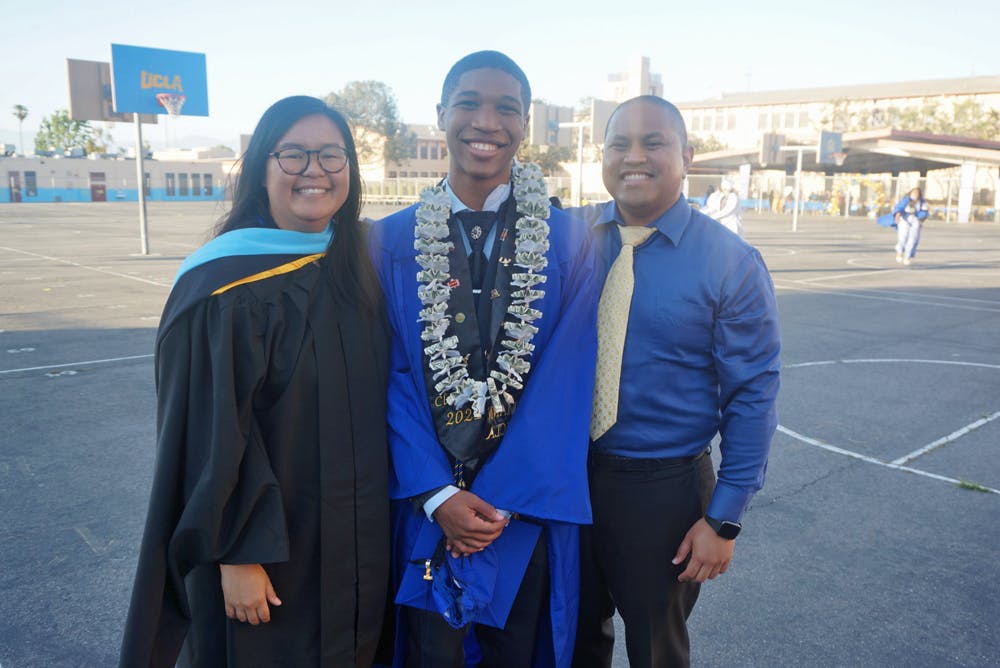 Jamya Maddox is a Mann UCLA student who has attended the school since the 6th grade. She says that the partnership with UCLA exposed her and her fellow students to many previously unconsidered opportunities and goals.
"A lot of kids in our community really don't get that exposure," she said. "They don't really know what they want, because they've never seen it before. You can't really discover who you are, and what you like, and what you want out of life unless you're exposed to different things."
Evelyn Wang, a doctoral student researcher in the UCLA Department of Education, has been working in the Mann UCLA College Center and says that community voices also propelled the school's offerings of enrichment and exploration for students.
"UCLA worked very closely with the community and the different partners with the school to bring these opportunities to the students, and also just to check in with the students and families directly and hear from them, 'What do you want, what would you like to see at the school?'" Wang says.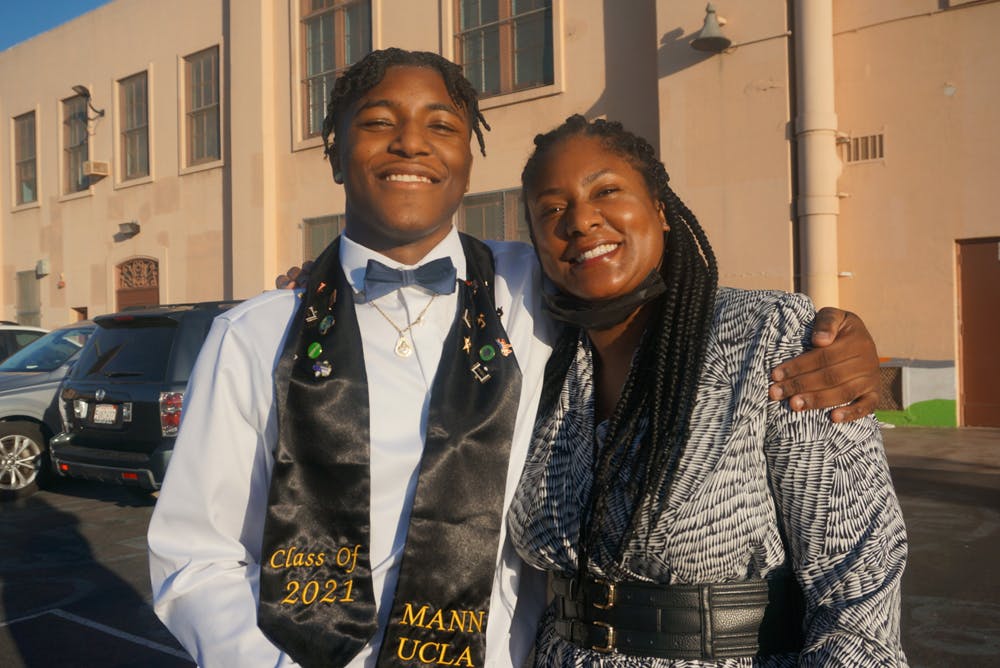 Maddox, who is headed to San José State University in the fall, says that a summer workshop presented by the UCLA School of Theater, Film, and Television in 2018, led her to choose her major of English with an emphasis on creative writing.
"UCLA did bring a lot of exposure [to opportunities] to Mann, and like I said, without that exposure, I wouldn't have found my passion," she says. "I wouldn't be majoring in something that I love."
The graduating students also highlighted the tightly knit bonds among students, teachers, staff, and families at Mann UCLA Community School. Akili B., who has also attended the school since 6th grade, says that among his greatest memories is going through his educational journey with his peers from the neighborhood.
"You've seen everybody since they were 12-years-old, and now we're 17 and 18 and about to graduate high school – that's pretty crazy," he says. "Before corona, we'd see each other every day. That's a lot of time – 10 hours a day – that's pretty cool. 
"Quarantine was quarantine – we were all just at home. It was different. School is what really kept us together the most."
Caleb Jordan, who enrolled at Mann UCLA in the 6th grade after moving to Los Angeles from Colorado, says that his great-great grandfather attended the school. 
"The family environment at the school – it's a decent sized school, it's not too big, not too small," he says. "It's right in the middle, where you can at least know everyone, staff included. There were times I could have gone to a different school but I didn't because I had built such a bond with everyone at the school."
Cassie Colangelo, one of the first UCLA undergraduates in the new Education and Social Transformation Major program, has been working and learning at UCLA Mann as part of a course in community engagement. She says that the familial atmosphere at the school contributes to the school's success.
"One thing I really love about Mann is the interconnectedness and the willingness of every single staff member, teacher, or volunteer to be hands-on, all in with the students," she says. "I think the students feel that we do care, and it really does help, and I wish I would have had that in my high school."
Wang has been focused on helping to create mental health supports at Mann UCLA for the last four years. She says that a social-emotional learning program at the school that was gaining momentum before the pandemic hit, has been helpful in guiding the school's community through the challenges of the last year-and-a-half.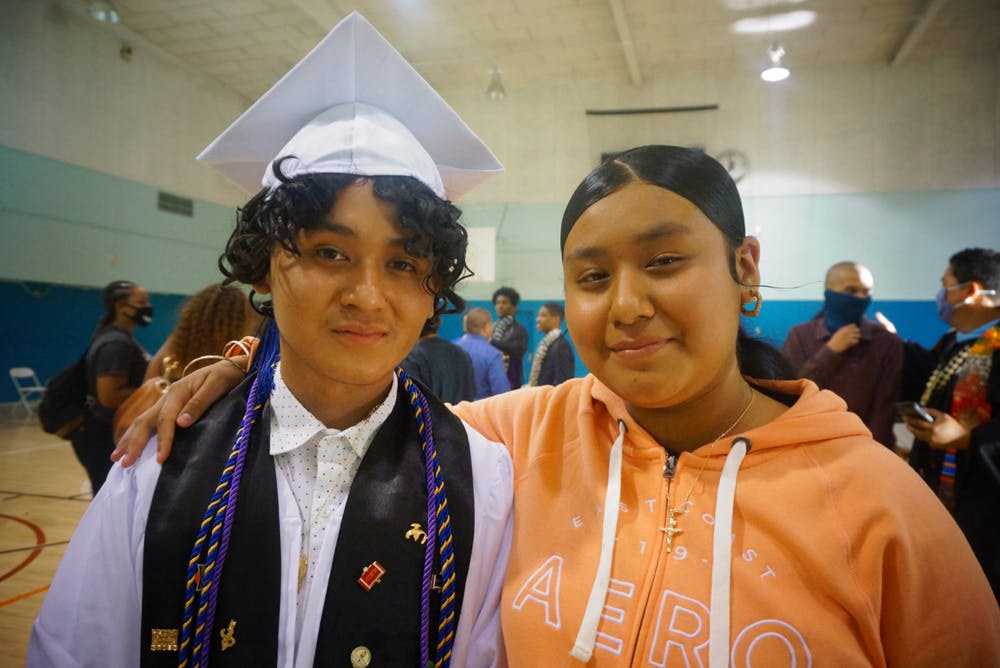 "The school was already having conversations about how best to support the students and the families, and even the staff supporting each other around social-emotional needs," she says. "I think that's been important to carry that conversation throughout the pandemic and the school closures and everything. What I've heard from talking to the students, the teachers and staff have really stepped up and tried to be as available, even remotely."
Akili Woods, who looks forward to beginning his major in education at CSU Channel Islands this fall, says that he looks forward to becoming an elementary or middle school teacher.
"I've always wanted to teach," he says. "Teaching is something special. I want to be a teacher that dedicates myself to teaching and not making it biased in any type of way. I'm going to make sure that if [my students are] going to be competing in this world and going up in school, I'm going to teach them what they need to know.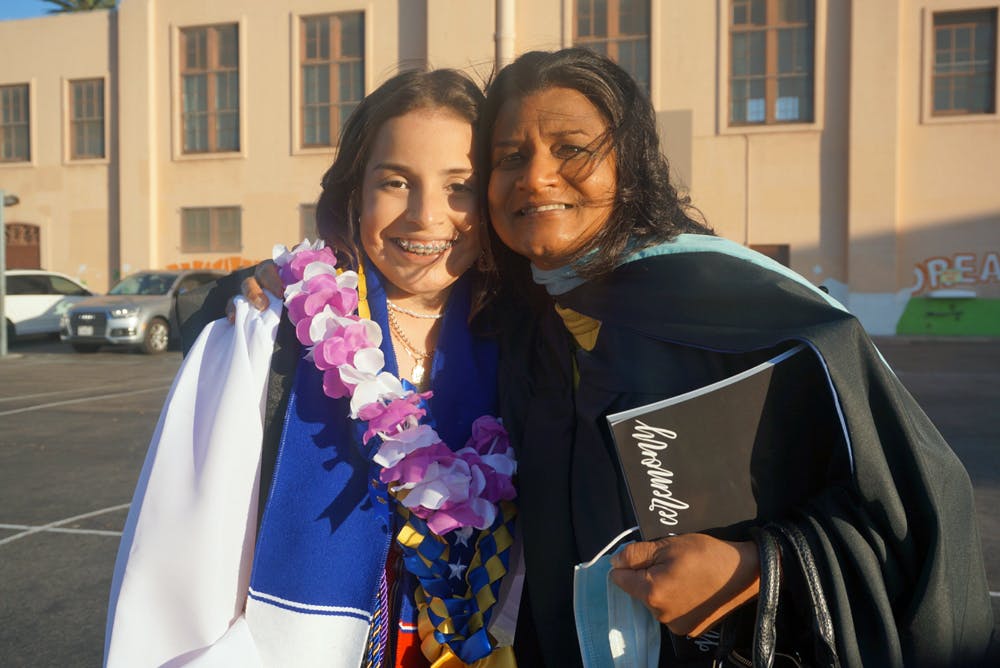 "Not all public schools are funded the same. It's really hard for people to learn when they don't have the resources. I'm using this time right now, and [will] in college to think of a way to give kids everything that they need in public school."
Jordan, who will attend Benedict College in Columbia, South Carolina, is considering majors in sports management and biology, with the goal to become a chiropractor. He says that he would encourage future Mann UCLA Community School students to participate in extracurricular activities.
"I would say all the experiences – the stuff that's not school, like the summer programs, community service on the weekends, – go to those, get connections, just be involved," he says. "That's the funnest thing at the school."
Maddox says that being part of the inaugural high school class at UCLA Mann has been a time of constant change, but that she and the school are better for it. She also says that the opportunity to give back to her school and community have been among her most memorable experiences.
"Some of the most important things I've done at Mann would be anything I've done with the younger kids, giving my time back to them, my energy, starting mentoring programs to help the kids transitioning into high school," she says. "When the 5 graders come, I love that. Every year I give them tours and I host. I love to inspire the younger generation."
Colangelo says that she was excited to be one of the first two students to be accepted into the Education and Social Transformation Major program, having entered UCLA originally as an English major. 
"I'm really hoping to be in some kind of a counseling position, either in high school helping students apply to college, or on the other end within a college, helping with that transition," she says. "I think it's a definitely a tough transition for many students and, if I can be the welcoming hand that'd be great.
"I'm a first-generation student and I come from an immigrant household. I went to a school in LAUSD that was super-overcrowded. I didn't know who my counselor was, and there was really no way to get to my counselor anyway because the wait time was just so long. I think that it would have been really great to have more support [like] Mann provides its students."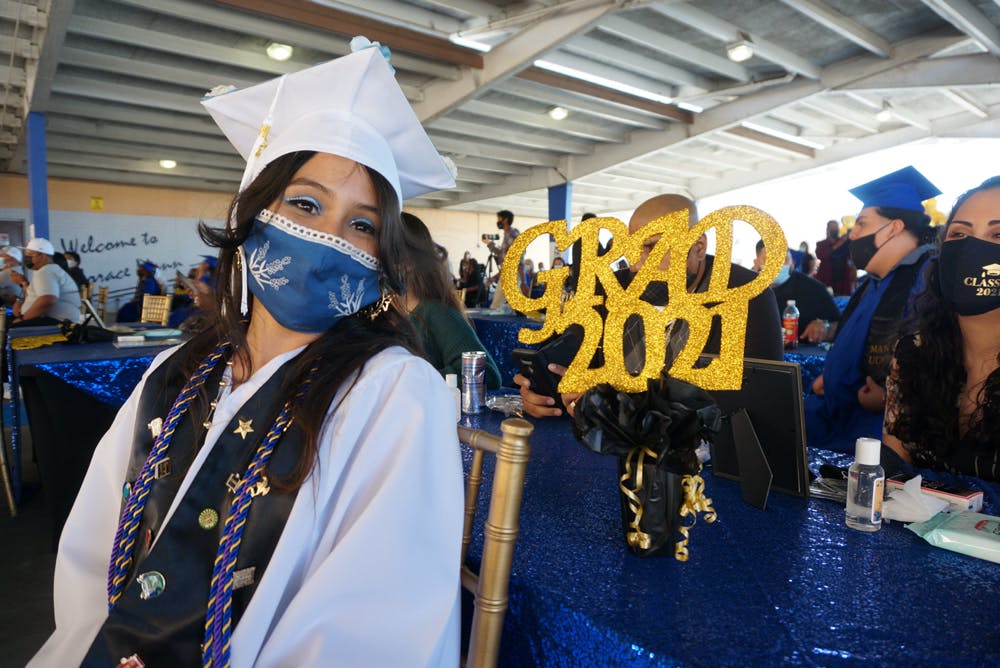 A number of Mann UCLA graduates will be attending local community colleges, including El Camino College, East LA College, Antelope Valley College, Cerritos College, Foothill College, the College of Southern Nevada. Glendale Community College, Los Angeles Southwest College, Santa Monica College, LA Trade Tech College, and West Los Angeles College. Several graduates are headed to the California State University at Bakersfield, Channel Islands, Dominguez Hills, Fresno, Fullerton, and Los Angeles. Others are headed to San Jose State University, UC Riverside, and Mount Saint Mary's College. Finally, several students will experience the out-of-state college experience at Benedict College and Grambling State College, two Historically Black Colleges and Universities (HBCUs) and the University of Nevada, Las Vegas.
Shen says that she and her research team will follow the Class of 2021 through their first year of college, to continue Mann UCLA's support through that transition.
"Our plan is to put together a volunteer effort of mentors," she says. "It can be made up of our undergraduate students, as well as our teachers, to support them as they go. We'll start this summer and then we'll continue for the first year. Hopefully, the goal is that we'll be with the kids when they graduate from the from college. 
"We have such a great community of support at Mann UCLA to help them … between leaving this community and then creating a new one, wherever they're going." 
Visit these links for videos of from the Class of 2021 thanking their teachers and school staff, and messages of congratulations from Mann UCLA teachers to their graduating students. 
The videos were created by volunteers from the UCLA chapter of Area Youth Ministry, who mentored the Mann UCLA senior class on a weekly basis this past year.
Above: Principal Orlando Johnson (third from left), with Mann UCLA colleagues and Ashley Oliva Funes, valedictorian for the Class of 2021.
L-R: Camille Lydia, school counselor; Jasmine Wallace, administrative assistant; Principal Johnson, Funes, LaQueena Litzsey, assistant principal; Carla Estes, assistant principal; and Christine Shen, director, UCLA Community Schools Initiatives
Photo by Darlene Tieu